The post Best 50+ WordPress eCommerce Plugins [The Ultimate List] appeared first on HostGator Blog.
WordPress is a flexible content management system helping novices and professionals create a variety of different websites. It began as a simple blogging platform but has grown into a full-fledged website building machine.
Whether you're planning to sell just a few products on your WordPress site or want to build an expansive eCommerce store, WordPress offers a solid foundation to get started today. Plus, with WordPress plugins, you can enhance your website to include even more features for your customers.
Lucky for you, we've compiled seven of the best WordPress eCommerce plugins along with a host of 50+ other plugins that can add value to your site.
7 Must-Have WordPress Plugins for Any eCommerce Store
The best eCommerce stores make it easy for potential customers to shop online. No matter what you're selling, you can provide a positive website experience using these must-have WordPress plugins below.
1. WooCommerce
WooCommerce is a powerful eCommerce solution. This WordPress plugin is suited for sites of any size and can easily grow with your website as your product line expands.
This tool comes with several paid and free themes and extensions, allowing you to customize your store to fit your brand's personality. Some of the most commonly used features include:
Store analytics
Payment integrations
Inventory management
Automated tax calculations
Dynamic pricing rules
Multiple shipping options
Coupon implementation
WooCommerce is built for store managers to operate eCommerce stores themselves, without hiring a web developer. Also, there's a fast-growing, online community of store owners willing to offer you guidance. You can attend any of the free, 80+ WooCommerce Meetups happening in cities across the world.
2. MonsterInsights
Data helps you measure the growth of your eCommerce business. That way, you can make critical decisions on how to allocate your time and resources. Bernhard Schroeder, a senior contributor at Forbes, agrees:
"Today, the gold is in the data your company generates or the data you can acquire to better understand your customer…Track and actually analyze your data in order to make better decisions on current and future products and services."
MonsterInsights displays the website data that matters to you. Without leaving your WordPress dashboard, you can see all your Google Analytics reports. You'll have access to customized reports about how people find your website and which content gets the most visits. The setup process requires no coding, and you can see insights in under 15 minutes.
3. Constant Contact Forms
Forms help your eCommerce business capture information from your visitors. Research found that "74% of companies use web forms for lead generation, with 49.7% stating their online forms are their highest converting lead generation tool."
Constant Contact Forms simplifies the form building process for you. This plugin automatically changes your forms to fit the theme and style of your website. You can customize data fields to ask visitors for their names, email addresses, and any other relevant information. These forms are mobile responsive for visitors to view on any device.
Moreover, with a Constant Contact account, this tool will add visitor data to your email lists. Then, you can nurture your new leads by sending engaging emails to encourage future purchases.
4. Easy Digital Downloads
If you're just looking to sell digital products, then you'll want to check out Easy Digital Downloads. This simple plugin has an array of features, including multiple payment methods, customer purchase history, downloadable PDF invoices, and affiliate program integration.
You can sell anything from software to photos to ebooks. eCommerce business owners like selling digital products because it's less than demanding than physical inventory. Hanna Brooks Olsen, writer and editor for CreativeLive, explains:
"Digital products can be sold and delivered even without you actually putting in any time to make sure they get out the door. That doesn't mean, though, that they don't require some labor — they take time, and they should be worth the money purchasers spend."
The Easy Digital Download plugin adapts to your eCommerce store. Several paid extensions are available to sell recurring subscriptions and to restrict access to page content.
5. LiveChat
According to a Zendesk report, customer satisfaction ratings for live chat (85%) are second only to phone support (91%), beating out help center articles (83%) and email support (82%). Live chat is an opportunity to deliver high-quality customer service to your visitors.
LiveChat allows you to easily add live chat support to your eCommerce website. It comes with a proactive chat invitation feature where chat agents can automatically send personalized messages to visitors based on specific conditions, such as time spent on your site.
On top of that, LiveChat provides a built-in ticketing system for 24/7 customer service. So, when no chat agent is available, the chatbox is replaced with a ticket form for customers to contact your business with their questions or concerns. It's an easy solution to support all your customers.
6. TrustPulse
Social proof is a driving force for consumer purchasing decisions. TrustPulse helps your eCommerce business display social proof with its easy-to-use notification builder. You can create FOMO popups that customize to your brand colors.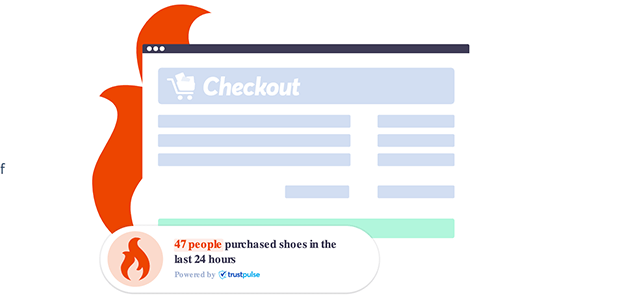 These messages will entice visitors to buy your products. Seasoned entrepreneur Matthew Hodges writes:
"People are natural procrastinators, and when it comes to purchasing a product or service, they need to be fully confident in their decision…Social proof helps give you an edge over the competition by playing on the herd mentality of people (wanting to go with what's popular or trending)."
TrustPulse uses real-time event tracking to show what live visitors are doing on your website. Its on-fire feature also shows the number of people taking action in a given period. All these social proof functions help you get more sales.
7. WP EasyCart
WP EasyCart gives you everything you need to sell physical and digital products as well as memberships and subscriptions. This plugin offers SCA-compliant payment solutions, such as Stripe, Square, and PayPal Express, to reduce fraud and make transactions more secure.
The free version allows you to sell unlimited products while managing orders and using the basic shipping and taxing features. When you upgrade, you get access to order editing, subscriptions, 30 payment processors, and other marketing options. More importantly, the setup process is easy because the tool automatically creates three new pages in WordPress for you.
You want potential customers to find your store on search engines. So, WP EasyCart comes with SEO editing for every product, menu, and category. There's also a social sharing feature allowing visitors to share product links with their friends and family members.
50 More Plugins to Explore for Your eCommerce Store
You'll need more than just the foundational tools to upgrade your eCommerce store. In this next section, we'll cover additional plugins that will attract new visitors and maintain customers' attention on your website.
WordPress Video Plugins for eCommerce Sites
Video is an opportunity to quickly deliver your message to your audience. It's a convenient way to explain a product or service while keeping visitors engaged. Check out these recommended video plugins for WordPress eCommerce sites.
1. Envira Gallery
In just a few clicks, you can create an engaging video gallery with this plugin's drag-and-drop builder. You can add videos from multiple platforms, including YouTube, Vimeo, Wistia, and self-hosted videos.
2. Video Gallery WordPress Plugin for YouTube
This tool allows you to display YouTube videos in a gallery or grid view on your eCommerce website. Each video also gets its own page with WordPress comments enabled.
3. YourChannel
Show your product videos on your own website. This tool's visual builder generates a shortcode to add videos to pages. You also can control the display options, like banner images or total views.
4. uTubeVideo Gallery
Get unlimited video galleries for your YouTube and Vimeo videos. You can set the size of the video player, select the starting video resolution, and arrange video albums by newest or oldest.
5. Video Gallery
This responsive WordPress plugin comes with seven different video gallery views, including thumbnail, blog style, and popup. Also, you can add a title and description to each video to give your visitors more context.
Learn more about the best WordPress video plugins.
WordPress SEO Plugins for eCommerce Sites
Search engine optimization makes it possible for your site to get ranked on Google, Bing, and Yahoo. More organic traffic means more visitors landing on your website.
1. Yoast SEO
This well-known WordPress SEO plugin helps you rank higher in search engines with title and meta description templating and schema implementation. You'll also have full control over your site's breadcrumbs.
2. All in One SEO Pack
For beginners and developers, this tool automatically generates meta tags and notifies search engines about changes to your website. You can redirect attachment pages to parent posts, too.
3. Google XML Sitemaps
With this plugin, you can improve SEO by creating special XML sitemaps to help search engines index your site. It's easier for the crawlers to analyze the complete structure of your site and retrieve the data more efficiently.
4. Broken Link Checker
Get a status check of all the broken links on your eCommerce website. This tool detects links that don't work, missing images, and redirects. Edit your broken links directly from the plugin's page, without manually updating each post.
5. WP Super Cache
Site speed is one factor determining your SEO ranking. You can speed up your site's loading time using this tool. It generates static HTML files from your WordPress site to make pages load faster.
Get more details about WordPress SEO plugins.
WordPress Affiliate Marketing Plugins for eCommerce Sites
Affiliate marketing helps you monetize your WordPress eCommerce website. You'll generate additional income by promoting other brand's products when your visitors make a purchase using your referral link.
1. ThirstyAffiliates
No more complex setups for your affiliate marketing. Now, you can manage your affiliate links with just a post and button in your WordPress dashboard. You can even group your links into categories.
2. Amazon Link Engine
Trusted by Amazon associates, this tool converts all your Amazon links into localized links. Shoppers who click your link will go directly to the Amazon store in their region.
3. Pretty Links
This plugin allows you to create clean, simple affiliate links on your WordPress website that redirect to any other URL. You can track each click and get a detailed report.
4. EasyAzon
Tired of manually creating affiliate links on Amazon's website? With this tool, you can create text affiliate links for any product in WordPress. It also offers training to maximize your commissions.
5. AmaLinks Pro
With a couple of clicks, you can create, preview, edit, and insert Amazon affiliate links within your content. This premium plugin offers three types of affiliate links: text, image, and call-to-action buttons.
Learn more about the best WordPress affiliate marketing and Amazon affiliate plugins.
WordPress Email Plugins for eCommerce Sites
Email marketing is an effective way to nurture the relationship between visitors and your brand. With email plugins, you can capture visitors' email addresses and communicate with them later.
1. MailPoet
This newsletter builder helps you create beautiful emails from scratch or with ready-made responsive templates that display on all devices. You don't have to leave your WordPress dashboard to schedule your newsletters anymore.
2. SendPress Newsletters
You'll get a code-free experience with this email plugin. Create unlimited responsive newsletters with an easy-to-use theme styler. Also, you can maintain the quality of your email list with a single or double opt-in.
3. Newsletter
Built with a drag-and-drop composer, you can develop unique emails to send to your subscribers. Its advanced targeting feature offers newsletter statistics, like open rates and total emails sent.
4. Constant Contact Forms
Capture more emails for your list with the Constant Contact Forms plugin. This WordPress plugin makes it easy to design your email signup form with your brand colors and style guide.
5. Sumo
This popular plugin grows your email list by collecting email addresses using high-converting forms. It also integrates with WooCommerce to send customized emails to reduce cart abandonment and win back customers.
Learn more about the best WordPress email plugins.
WordPress Social Media Plugins for eCommerce Sites
Social media raises your brand voice and sparks people's interest in your website. Popular social media channels, like Twitter, Instagram, and Facebook, can entice customers to learn about your products.
1. MashShare
Give your visitors an option to share your valuable content. This plugin displays a large share counter on your website along with two share buttons for Twitter and Facebook.
2. Social Login
Visitors don't like creating new website accounts. So, get rid of long forms and allow your visitors to comment, log in, and register with more than 40 social networks.
3. Floating Social Media Icons
Encourage visitors to share your content with these dynamic social icons. The icons will fly from the top to the bottom of your website and will move as the visitor scrolls the page.
4. TweetDis
Increase traffic from Twitter by adding quotable tweets to your site. By prompting visitors to share specific content, they are more likely to communicate your message with their followers.
5. Flow-Flow
This plugin aggregates your multiple social feeds into a responsive social media wall on your eCommerce website. Quickly engage your visitors and wow them with your social capital.
Check out more WordPress social media plugins.
WordPress Form Plugins for eCommerce Sites
Forms serve as a lead generation tool to get your visitors into your nurturing stream. Using these form plugins, you can persuade people to sign up for a free gift or coupon.
1. WPForms
With this drag-and-drop form builder, you can create any type of form, ranging from contact forms to feedback forms to payment forms. Setup only takes a few minutes and doesn't require technical expertise.
2. Everest Forms
This lightweight plugin offers an intuitive admin to build responsive forms along with spam protection. It supports several form fields, including radio buttons, drop-downs, checkboxes, and dates.
3. Ninja Forms
Quickly build forms with pre-built templates for contact forms, registration forms, and application forms. It also integrates with email marketing tools, like Constant Contact, to grow your mailing lists.
4. weForms
This contact form builder is loaded with useful features, like customizable templates, real-time live preview, and form expiration dates. You can even redirect any submitted forms to your WordPress eCommerce website to boost traffic.
5. HappyForms
Say goodbye to clunky forms. With this tool, you can easily add forms to any page or post on your site. Design your forms with multi-column layouts and send confirmation emails directly to visitors.
Get more details about WordPress form plugins.
WordPress A/B Testing Plugins for eCommerce Sites
Growing your eCommerce store includes running website experiments. That way, you can understand how to position your site to boost engagement and increase product sales.
1. Thrive Headline Optimizer
This A/B testing tool tracks click-through rate, scroll rate, and time on content to find the right headline for your website. It also offers bulk testing to optimize all of your existing content at once.
2. Nelio A/B Testing
Use this plugin to define, manage, and keep track of all your A/B tests. It's designed to test featured images, product descriptions, site menus, and page headlines.
3. Split Hero
You can create up to four different page variations to see which one leads to more conversions. This easy-to-use tool records metrics, like unique visitors for each variation, the number of conversions, and the overall percentage.
4. WordPress Calls to Action
Convert more visitors into customers by testing your call-to-action buttons. This plugin lets you clone existing buttons and run multiple testing variations.
5. Google Optimize
This platform helps you easily identify problem areas on your website and create actionable insights to deliver a better online experience. You can run A/B, multivariate, and redirect tests to find what content resonates with your visitors.
Here's a full list of WordPress A/B testing plugins.
WordPress Discount Wheel Popup Plugins for eCommerce Sites
Discount wheel popups are fun, interactive forms to get visitors to play a game and win a prize in exchange for their email address. This marketing tactic will encourage more people to join your mailing list.
1. OptinMonster
Create eye-appealing popups using this simple drag-and-drop builder. Smart triggers help you display the right campaign to the right visitor at the right time.
2. WP Optin Wheel
Design your popup by editing the slice colors, background image, or the brand logo. You can even include tick sounds when the wheel turns or display fireworks when visitors win.
3. OptinSpin
Link coupons with specific segments of your discount wheel popup. Then, this tool will email the coupon to your visitors, helping increase product sales.
4. Popup Maker
Get more leads in your email list with 70+ pre-made popup templates. Exit-intent triggers also persuade visitors to finalize their purchases and reduce shopping cart abandonment.
5. Wheel of PopUps
Install this tool in less than five minutes to boost your sales. You have control over how often a visitor wins a small or big discount.
Get more details about WordPress discount wheel popup plugins here.
WordPress Dropshipping Plugins for eCommerce Sites
Dropshipping plugins simplify your store workflow by automating specific tasks. You'll find it easier to manage several products, communicate with suppliers, and quickly fulfill orders for your customers.
1. AliDropship
This all-in-one solution offers a single control panel for managing your products, pricing, and sales. With its advanced pricing markup formula, you can apply rules for particular items in your store.
2. DropshipMe
Easily search and import the best products from AliExpress suppliers to your eCommerce store. Plus, get professionally edited product descriptions to earn more sales.
3. WooDropship
This premium tool allows you to add and sell AliExpress products directly from your WordPress store. You can even fulfill orders with just one click of a button.
4. Spocket
Source high-quality products from around the world to add to your store. Never sell an out-of-stock product again with real-time updates on your stock level.
5. Dropified
Scale your eCommerce business with an automated process to check product availability and vendor price changes. In the order dashboard, you'll have access to all your customer data.
Here's a full list of WordPress dropshipping plugins.
WordPress Inventory Management Plugins for eCommerce Sites
Inventory management includes the overseeing of your store purchases, from both suppliers and customers. You'll want to keep track of stocked products to reduce costs and optimize order fulfillment.
1. WP Inventory Manager
Designed for car dealers and art collectors, this plugin helps you manage and keep track of all your inventory in one place. It supports multiple categories and customizable labels.
2. Smart Manager
Save time managing and bulk editing your WooCommerce products, orders, and coupons. You control your business operations from changing order statuses to inventory levels.
3. Z Inventory Manager
This inventory management plugin allows you to organize your sales, purchase orders, and shipments. Also, keep track of products as they arrive with purchase receipts.
4. RentMy
In real-time, you can manage and increase your rentals for your eCommerce business. Get a suite of features including, rental booking, inventory asset tracking, and a point-of-sale system.
5. WP ERP
This premium plugin offers an interactive system to sync your inventory with invoicing. Get a complete overview of all stocked products and get a detailed report to share with your team.
Get more details about WordPress inventory management plugins.
WordPress Chatbot Plugins for eCommerce Sites
Chatbots give you a second set of hands to operate your eCommerce store. These useful tools can answer customer questions, collect market data, and send automated campaigns.
1. Acobot
This plugin serves as a virtual assistant, helping your customers shop by answering questions and encouraging purchases. Use the chatbot to upsell products and give coupons.
2. WP-Chatbot
Add a Facebook Messenger chat widget to your eCommerce website. Visitors will receive 24/7 customer service, and you get a chat history to segment customers for future engagement.
3. Chatbot with IBM Watson
Support your customers with a chatbot that offers your visitors useful information. Set up the tool with real-life interactions, including images, pauses, and clickable responses.
4. WPBot
No technical experience required for this plugin. Your chatbot will talk with your website visitors using text responses you've created. In addition, visitors can ask the chatbot to email you for additional customer support.
5. ChatBot for WooCommerce
This standalone tool integrates with WooCommerce to help shoppers search and find the right product quickly. You can choose the location of the chatbot on your site and upload a custom chat icon to match your brand.
Check out more WordPress chatbot plugins.
Enhance Your eCommerce Website with WordPress Plugins
WordPress is one of the best tools to build your eCommerce store. Any of the plugins we highlighted above will help get your online storefront up and running. Start building your WordPress site today with HostGator's WordPress hosting!
Shayla Price creates and promotes content. She lives at the intersection of digital marketing, technology, and social responsibility. Originally from Louisiana, Shayla champions access to remote work opportunities. Connect with her on Twitter at @shaylaprice.
Find the post on the HostGator Blog