This article was originally published on July 1, 2014, and was updated on May 15, 2020.
Social media is a crucial aspect of small business marketing as it is a convenient, quick and affordable method of reaching millions of potential customers at one time. That's why understanding how to use a top social platform like Twitter is so important. And writing a Twitter bio that will make your venture stand out in the crowded Twitterverse is a vital first step.
What to consider when creating a Twitter bio
Here are a few things to keep in mind when writing a Twitter bio for your business.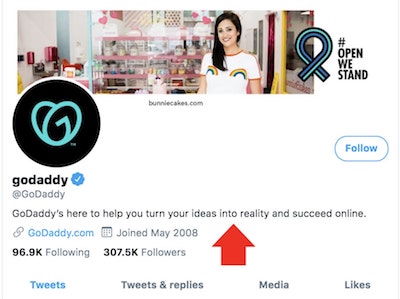 Displayed under your Twitter profile picture, your Twitter bio is a summary of up to 160 characters that can include text, hashtags and associated handles.
You've got only 160 characters to create a Twitter bio that represents who you are and what you've got to offer. No problem, right? Actually, brevity is one of the most challenging aspects of writing anything.
Here are some tips that might help:
Include descriptive words that describe your business.
Use a succinct variation of your unique value proposition.
Use your business's tagline or mission statement.
Include a link to your website.
Include a branded hashtag or hashtag(s) relevant to your industry.
Related: How to use Twitter for business
How to create your Twitter bio
Now that you have a better understanding of what should be in a Twitter bio, let's look at how to set one up.
The first thing you need to do is go to Twitter.com and click on "Sign Up."
Once you have clicked the "Sign Up" link on the Twitter homepage you will be taken to the "Create Your Account" page where you have a limited number of characters to fill in details about your company.
Use them wisely.
If you prefer your contacts be through your webpage or a specific avenue instead of by phone, be sure to change to the website option where a phone number is requested. Remember that whatever you post here will be visible to anyone who views your Twitter bio.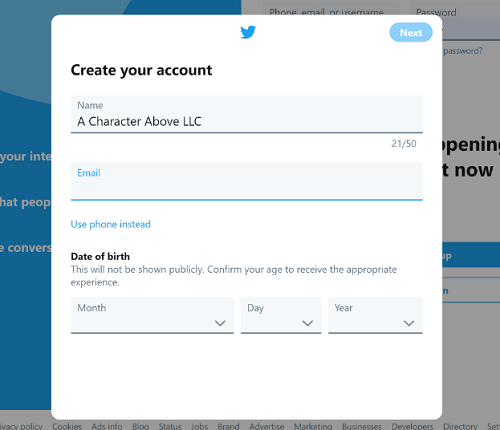 The date of birth field is a required field, so I recommend that businesses use the date their business was established. This keeps personal information to a minimum and private.
Once this information is entered and the next icon is clicked a pop-up "Customize Your Experience" will appear.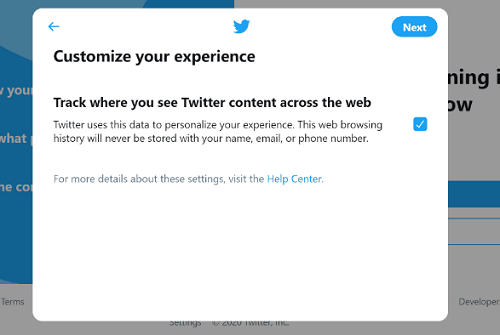 This affects your viewing privacy, so be sure to read the details and make a choice accordingly instead of simply skipping past this page. I chose to opt-out since I found it to be a bit too open when it comes to my private information.
Once you've made your selection and clicked "Next," the following screen allows you to review the information that will be automatically visible to the public. Review it carefully and click on "Sign Up".
And that's it! You have a Twitter profile. Not quite. You have a Twitter account. To have a quality bio or profile you will need to log in to your new Twitter account and click into your profile.
After you click on the "Edit Profile" icon, you will have the opportunity to insert additional details regarding your business. This is also where you upload an image to give a face to your small business.
Take the time when entering the bio to keep it relevant, condensed, understandable and accurate. For the example above, I used my old profile's bio to show an example of not-so-relevant business bio details.
With that in mind, it is important to regularly review your social media profiles for outdated information and privacy policy changes that may have you more exposed than you want to be.
The example below shows a better Twitter bio.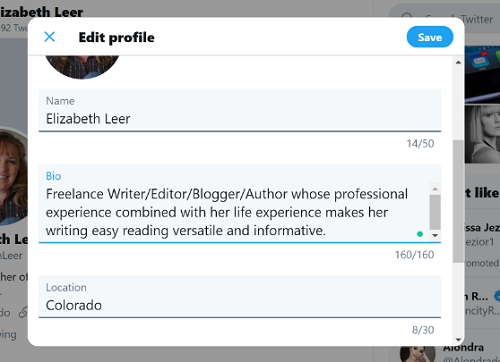 You will see that the bio is now focused on professional experience and making it clear as to exactly what I do.
With so few characters to compose a bio, it is imperative to be clear, direct and straightforward in this section, as it is your first real point of contact with potential clients.
Marketing your small business through social media is about more than keeping up with modern technology. It is an inexpensive, key marketing tool intended to increase business website views as well as overall sales. Starting the social media process with solid profiles and bios is the fastest way to reach these goals in a cost-effective manner.
Need help managing your social media presence? GoDaddy Social has you covered.
This article includes content originally published on the GoDaddy blog by Tabitha Martin.
The post How to write a great Twitter bio appeared first on GoDaddy Blog.