You may already be a fan of Pinterest in your personal life, enjoying the pretty photos and getting plenty of DIY inspiration from the platform. But if you're reading this article, you've probably realized its power as a visual search engine that can be used to grow your business.
Though Pinterest for business is different than Pinterest for personal use, it's still user-friendly.
By having a firm grasp on how to use Pinterest for business, you'll be well on your way to giving a boost to your bottom line. This guide can help.
How to use Pinterest for business — the ultimate guide
Here's what we're going to cover in this guide. Feel free to skip ahead to specific sections if you're so inclined:
Why businesses use Pinterest.
How to get started with Pinterest.

Setting up a Pinterest business account.
Creating Pinterest boards.
Creating your first Pins.
Adding a custom board cover photo.

Pinterest glossary.
Pins and Promoted Pins.
Tips for creating captivating Pinterest content.
Best practices for pinning.
Promoted Pins — targeting the right Pinners.
How to get more Pinterest followers.
How to allow users to shop without leaving Pinterest.
Examples of successful Pinterest for business campaigns.
How to maintain your Pinterest boards.
Best practices for Pinterest group boards.
How to measure the performance of your Pinterest for business account.
Conclusion and next steps.
Once you fully learn how to use Pinterest for business and implement all the Pinterest for business tips and tricks, you'll truly understand the power of the platform.
Why businesses use Pinterest
With over 320 million monthly users, Pinterest isn't the largest social site out there. However, it is continuing to grow quickly, increasing its active userbase by 26% in the last year alone.
Pinterest is unique in the way it seems to walk the line between being a social network and a search engine so naturally.
It sees 2 billion monthly searches. While that's less than Google's 100 billion monthly searches and Bing's more than 11 billion — it's still significant.
Unlike users of most other social media platforms, those on Pinterest often use the site with a "shopper's mentality." Part of the reason that users approach the site with this particular mindset is because it is organized like an online catalog.
The results are staggering: 97% of people say they use Pinterest to plan their purchases, and 87% of Pinners purchased something because of Pinterest.
Related: 15 social media tips and best practices for 2020
Back to top
How to get started with Pinterest
Let's walk through the major steps required to get started with Pinterest.
1. Setting up a Pinterest business account
The first step to using Pinterest to connect your brand to new and loyal customers is to set up a business account.
You can do this three different ways, depending on how involved you've been with Pinterest:
Add a business profile to your personal account.
Convert your personal account.
Sign up for a business account.
No matter which way you go about it, the steps involved are the same.
Go to pinterest.com/business/create. If you're signed in to your personal account, you must log out. Enter a (new) email and password and click Create Account.
Choose your language and location, then add a business name. Choose a descriptor for what your business is about, and enter your website's address.
Connect your other social accounts. This will ensure that Pins from those accounts will be attributed to your business. You will also be able to track related analytics. Pinterest integrates with Instagram, YouTube and Etsy.
Let Pinterest know if you're planning to run ads. Pinterest will inquire about contact information so that someone from the company can get in touch to help you get started.
Edit your profile. On the business hub dashboard, click on the pencil icon. You may edit your profile name, the user name (which is part of the URL that allows users to directly access your account — i.e. pinterest.com/username.), business description (don't forget relevant keywords), and profile photo (best to use a clean business logo that's 165 x 165 pixels).
Claim your website. This is an important step in the setup process because it allows you to track website analytics. Additionally, any Pins that link back to a claimed account will show your profile photo and a follow button, which means more visibility and followers. Find the Claim tab under Account Settings in the menu on the left-hand corner of the page.
Start pinning. After setting up your account, you can create Pinterest boards and start pinning!
Related: Social media image sizes — The 2020 cheat sheet
2. Creating Pinterest boards
After signing up for an account, the next step to using Pinterest for business is to create some boards. These are where you save, collect and organize your Pins.
You can do this from your profile. Just click on the (+) sign over Create a Board. Then, enter the name of your board and a short description regarding what it will contain. Finally, click on the pencil icon to edit the board.
Don't forget to choose a category for the board to help with your SEO.
To be effective, you're going to want to create 20 to 25 boards from the get-go. The key to success is relevance. Don't create boards sharing recipes if your brand has nothing to do with food. Your audience will wonder about the connection (or lack thereof).
3. Creating your first Pins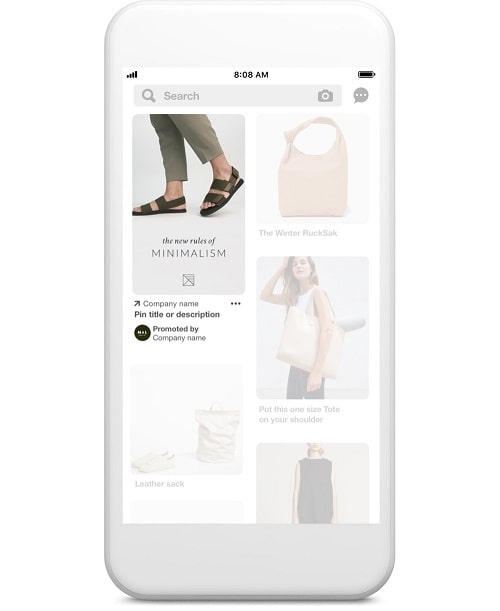 Once you have your boards set up, it's time to create your first Pins. From your dashboard, click on the (+) sign in the upper, right-hand corner.
Then, you can choose from three different ways to add new Pins. You can upload a photo, enter a link to a website, or use the Pinterest Pin It button.
If there's a photo you want to use as a Pin on your computer, it's easy enough to quickly upload it to a board. Once it's uploaded, you can edit the photo in the Pin editor. Then, enter a destination link within the given field. This is where people will be directed when they click on the Pin.
If you're pinning something from a website, drop in the link and Pinterest will grab the image for you. Ideally, use photos that represent the recommended Pinterest image size: between 600 and 735 pixels wide, with a 2:3 aspect ratio.
Photos with a landscape orientation don't perform as well on Pinterest.
By installing the Pinterest Pin It button on your browser, you can make this process super easy. When you click on it, the button will automatically select the images on the page you want to pin from. Then, all you have to do is pick the image you want, add a title and description (if they don't automatically generate), and pin it on your selected board.
No matter how you create your Pin, you want to optimize the title and description with relevant keywords and related hashtags.
Once your Pin is ready to share, hit "upload" and choose which board you want to add it to. You should aim to have at least 25 Pins per board from the get-go — then keep adding to it on a regular basis.
Related: How to make Pinterest Pins on your mobile phone
4. Add a custom board cover photo
At this point, you may want to upload a custom board cover photo. To do this, click on your Pinterest board. Then, click on the pencil sign to edit your board. Under the options, find "cover" and click "change." Pinterest also offers the option to automatically generate board cover photos based on recent Pins.
To set a custom board cover photo, note that you can choose from your existing Pins or upload a new photo or video — but only business accounts can upload videos to their board covers.
Related: How to establish your brand on social media
Back to top
Pinterest glossary
Before you can really conquer Pinterest for business, you need to take a crash course in Pinterest terminology. Learn all of the Pinterest buzzwords, from Repins to Group Boards, to ensure you're creating inspiring content and engaging your Pinterest audience.
Audience Insight — Something that differentiates Pinterest Business accounts from personal accounts is access to Audience Insight, which shows metrics regarding how your Pins are performing.
Board — A board is like a digital version of a mood board. It's where users group their Pins according to a certain theme or category. Boards can be Secret (private) or public. Public boards appear during searches and can be viewed by other users. You may make your board public or Secret under the "edit board" option.
Group board — A group board is a board that several users share and can all pin to, which is great for collaboration. About 98% of group boards have five members or less. To make a group board, go to the "edit board" option and choose a collaborator to add to your board.
Feed — This is where all Pinterest posts show up. There are three types of feeds.
Home feed — This is a collection of Pins saved by the people, topics and boards you follow. It also includes Pins inspired by your boards or your recent activity to help you find similar Pins.
Explore feed — This shows trending and popular Pinterest Pins.
Following feed — This is where you only see Pins from the people, topics and boards you follow. The page is in chronological order so you can keep up with what you're following.
Pin — The primary post type on Pinterest. Pins can be text, photos and videos that link back to their original source.
Pincode — This is similar to Snapchat's Snapcode feature. Pincodes are QR codes businesses can scan digitally or display in their items and stores that will lead customers to the business's Pinterest page.
Pinner — This term is used to describe a Pinterest user.
Pinterest Lens — This is a camera tool available on both Android and iPhone that lets users snap a photo of an item. Pinterest then helps locate related content on the platform.
Promoted Pins — Promoted Pins are those that companies have paid to appear at the top of the search results or category feeds, allowing them to reach their target audiences. They appear in the Home feed and have a "promoted" label on them. Video Pins, App Pins, and Carousel Pins may be promoted.
Protected board — A protected board only contains Promoted Pins and is only available to advertisers. These Pins appear on Pinterest but cannot be seen on profile pages.
Repin — This is similar to Twitter's "retweeting" feature. Repinning is posting someone else's Pin onto one of your boards.
Rich Pin — Much like Google's rich snippets, Rich Pins provide more information about the Pin, such as price and app installation information. Rich Pins are available in four formats: Recipe Pins, Product Pins, App Pins and Article Pins.
Save Button — This is an extension you can add to browsers (Chrome, Firefox and Microsoft Edge) so users can save photos they see on your website and pin them immediately to their boards.
Secret boards — Secret boards are private boards that can only be seen by the board owner and invited collaborators. Secret boards have a lock symbol next to the board name.
Shop the Look Pin — Shop the Look Pins are like Instagram shoppable posts. Brands can add product tags to the Pin, and users can shop the items when they tap on the Pin's white dots.
Related: A beginner's guide to social media for small business
Back to top
Pins and Promoted Pins
You can make your brand stand out on Pinterest with thoughtful, eye-catching visuals. Use photos, videos and links back to your site to promote your latest products, drive traffic to your website, and connect with your customers. You can also promote your standout Pins to reach new audiences.
There are two components to a winning Pin: a visual treat that's SEO-friendly.
One cannot exist without the other when effectively using Pinterest for business.
You may have a pretty Pin but if no one can find it when they search with related terms, then your efforts are ultimately for nothing. On the other hand, if your Pin is searchable but not pretty, it won't entice anyone to make a purchase or repin it.
Related: 7 tips for using Pinterest Promoted Pins to showcase your bakery
Back to top
Tips for creating captivating Pinterest content
Most Pinterest for business tips focus on the pictures, images and videos. And for good reason. According to a 2019 research study, 85% of Pinners place a premium on visuals over text.
There are three things that make a good Pin:
Vertical imagery. Most users access Pinterest on mobile. When creating Pins, images between 600-735 pixels with a 2:3 ratio perform best.
Text overlay. Include copy that tells the users what to expect when they click on the image.
Branding. Make sure to include your brand logo and/or website so that people will associate your Pins with your brand.
Another way to optimize your Pinterest account is by pinning certain types of content that have proven to perform well.
The best-performing Pins are:
How-to and DIY content. According to Sprout Social, educational content is the bread and butter of Pinterest.
Infographics. Among the most-shared content on social media, infographics are also often embedded into other website content.
Inspirational posts. These Pins can involve anything that inspires users, from text-overlay quotes to visually-appealing decor ideas.
Eye-popping imagery. To get noticed on Pinterest, you absolutely need images that stand out.
Though you'll want to focus on boards that are core to your business, you also don't want to forget to plan for seasonal content. Seasonal content presents enormous opportunities for brands. Pinterest recommends sharing seasonal content 30 to 45 days in advance.
If you're not sure how to manage seasonal content, Pinterest offers a helpful seasonal content planner.
Related: Drive traffic with holiday marketing campaigns on Pinterest
Tools to help you create Pinterest images
If you don't know how to use Photoshop, don't worry. There are plenty of user-friendly tools out there that will help you make professional-looking Pinterest images in no time!
Here are a few of our favorites:
Canva empowers you to be a graphic designer, even without the Photoshop skills. Canva has several pre-made designs available that you can tweak. It allows you to download your work in a ready-made Pinterest-sized template.
Pablo is Buffer's image creation tool. It allows users to painlessly create images with text overlays.
Wordswag is an app that allows you to make Pinterest photos on your mobile phone.
Related: How to use Canva to create branded images in less than an hour
Back to top
Best practices for pinning
When it comes to how to use Pinterest for business, you'll want to follow pinning best practices. These will allow your account to perform optimally.
How often should you pin?
At a bare minimum, you'll want to pin once a day. Pinterest rewards consistency with greater reach. Don't worry about overwhelming your followers with an avalanche of Pins — Pinterest Smart Feed algorithm keeps things ticking along at a reasonable pace.
Though one Pin a day might check the activity box, in reality, you're going to want to aim for pinning/repinning 20+ Pins per day, spread out across your various boards.
Most brands opt for 80% repins and 20% of their own content, while others do the opposite. You'll need to play around with this ratio to figure out what you can keep up with in the way of content generation and what resonates best with your target market.
What tools can make Pinterest for business easier?
It doesn't have to feel like a chore to pin and repin on Pinterest.
Scheduling tools such as Tailwind, Viraltag, and Buffer make it possible to plan out your Pins without having to be glued to your computer all the time.
When scheduling posts, don't forget to check out the best times to post on Pinterest to help maximize engagement.
How can you get more eyes on your Pins?
As with SEO for Google, you will want to be savvy with your use of keyword-rich titles and descriptions. On a related note, make sure you use relevant hashtags. Pinterest allows you to add up to 20 hashtags, and up to 500 characters in the description box. All of this will help content be found in relevant searches, as well as entice users to learn more (i.e., visit your website).
Remember to include a CTA
Don't forget to a call-to-Pin (or a call-to-action) as part of your description. Doing so can increase engagement by 80%.
Leverage Rich Pins
You're also going to want to take advantage of Rich Pins. These will add a special markup to provide more information within the Pin itself. The Pinterest Rich Pins tool will automatically add details such as headline, author, description and even location to your Pin.
There are four additional types of Rich Pins you'll want to consider using:
Article Pin: These show your article's information at a glance, making it easier to read and search.
Product Pins: These link to your product's page and show your product's price and where it can be purchased.
Recipe Pins: These show recipe information such as ingredients and cooking time.
App Pins: These allow users to download an app directly from the Pin.
Back to top
Promoted Pins — targeting the right Pinners
When you're figuring out how to use Pinterest for business, it's vital to take advantage of Promoted Pins — one of the best features for driving people to make a purchase.
Promoted Pins allow you to reach new audiences, drive engagement, and increase sales.
Business owners tend to love Promoted Pins because they aren't as in-your-face or spammy as ads on other social networks. Promoted Pins integrate naturally with relevant searches.
Before you start paying to promote Pins, you'll want to add the Pinterest tag to your website so that you can track how effective your ads are at driving traffic.
Formats for Promoted Pins
There are four formats for Promoted Pins:
Promoted Pins: These are the most basic ad format and include a single image.
Promoted Video Pins: These are the same as a Promoted Pin but contain video content.
Promoted Carousel: These contain up to five images that Pinners can swipe through. They allow you to tell a deeper brand story.
Promoted App Pins: These make it easy for people to discover and download an app directly from Pinterest.
You can only create Promoted Pins with a Pinterest Business account. They follow a cost-per-click (CPC) model. This means that you only pay when someone clicks on your Pin — you don't pay per view.
Setting Pinterest campaign goals
Once you decide you're ready to take advantage of Promoted Pins, you'll want to select the Pin you want to promote. In general, you'll want to use your best-performing Pins for this purpose.
Then, you'll want to set a goal. Pinterest allows you to tailor your campaign to achieve one of five goals:
Traffic: This is designed to send Pinners directly from your Pinterest ads to your website. You pay per click.
Awareness: This allows you to display your Pinterest ads to new people. You pay per 1,000 impressions.
Video awareness: This is the same as the awareness campaign but focused on video content.
Engagement: This is all about increasing engagement. You pay per click, save or close-up.
App: This allows you to focus on getting Pinners to install your app. You pay per click or install.
Once you select the ad campaign type, you'll be able to further refine your targeting based on audience.
Audience targeting and budgeting
There are four different types of audiences you can target with your ad:
Customer lists: When you create your customer list, Pinterest will look for people in your audience list who have existing accounts on Pinterest. An audience needs to have 100 people before you can start using it for targeted ads. The key is to already have a robust, established audience.
Visitors: These are people who have gone to your site.
Engaged: These are people who engaged with your Pins on Pinterest.
Similar: These are people who are in a similar demographic to an existing audience list.
Next, you'll want to add the URL of the page you want to drive traffic to and decide on your daily budget.
Note that you might not pay this much every day — the daily budget is intended as a cap on how much you're willing to spend each day.
Remember that the lower the budget, the longer it may take to see results. You should be prepared to invest a bit more during seasonal holidays — other businesses will also be paying to promote their Pins at those key times of the year.
Lastly, click "Continue" to create a whole campaign or click "Launch" to start gaining traction on Pinterest immediately.
If your campaign is missing any necessary information, errors will be highlighted in orange on the left side of the screen. If you don't see any issues, your Promoted Pin is live!
Back to top
How to get more Pinterest followers
Pins can be huge traffic drivers when used successfully. Creating captivating content that is optimized for Pinterest SEO is ideal. However, don't forget that Pinterest is a social site. This means you need to be engaging with users to get more followers — and more eyeballs on your Pins!
The fundamental way to get more Pinterest followers is to pin often.
In general, there are three major factors that determine whether or not someone will follow you on Pinterest:
Your following and follower count
Number of Pins
Number of boards
Ultimately, the volume of content you're putting out there will factor into your success. So in the beginning, you'll want to focus your energy on pinning as often as possible.
While generating lots of content, you'll also want to engage with other users.
There are three ways to do this:
Comment on other users' Pins.
Follow your followers, influencers and competitors (you'll want to know what they're up to).
Invite users to collaborate on your boards. In September 2019, Pinterest rolled out some interesting group board features for better collaboration.
Back to top
How to allow users to shop without leaving Pinterest
With Pinterest's Buyable (also known as Shop the Look) Pins, users can now shop without leaving Pinterest. This is great for businesses that are tapping into the enormous potential of Pinterest.
Pinterest also introduced a Shop tab for business profiles. This is a dedicated tab that allows Pinners to shop a company's products directly from their profile.
If you've only got a few products to sell, you can use Pinterest's tagging tool to create your own Shop the Look Pins. Shop the Look is only available to business accounts in the U.S., Australia, Brazil, Canada, France, Germany, Ireland, Japan, Mexico, New Zealand and the U.K.
U.S. retailers with shopping product feeds can work with Curalate or Olapic to create Shop the Look Pins at scale.
Back to top
Examples of successful Pinterest for business campaigns
Wow! That's a lot of information. Need some real-world inspiration to kickstart your Pinterest journey? Let's go!
Successful Promoted Pins campaign: Comcast
One successful case study for using Promoted Pins is Comcast, who wanted to increase awareness about their growing portfolio of smart-home products. With the help of Matterport, Comcast developed a 360-degree virtual tour of a smart-home environment for the 56 million Pinterest users who search about home content on the platform.
Comcast created a Pinterest board with Pins capturing the 360-degree rendering of each room. These showed the use of Comcast's products in a real smart home. Pinners were able to click on a featured item to learn more about it.
Comcast promoted six standard Pins, each highlighting a different benefit of a product. They also included three video ads that served as virtual tours.
Check out Comcast's board for inspiration!
Successful seasonal content: Albertsons Company
To promote its products during the holiday season, Albertsons Company ran a Pinterest campaign from October to December. This allowed them to cover Halloween, Thanksgiving and Christmas.
To make the campaign a success, Albertsons analyzed some of Pinterest's biggest seasonal trends and developed content that aligned with these trends. They created standard and video Pins featuring different ways to incorporate products into side dishes, cocktails, desserts and snacks for each holiday.
You can never go wrong when you inspire and engage with customers!
Back to top
How to maintain your Pinterest boards
Your business's Pinterest boards should relate to your business in some way. These boards should also be optimized with keyword-rich names and descriptions, and all the Pins should fall within that category and topic. However, once you create your board, it's really just the start of the process.
It's not enough to simply keep piling content onto your Pinterest boards. You should aim to do an audit of your boards at least once a year.
Part of maintaining your boards is arranging them. Those that deal with your website's main content should be at the top, while boards with content that generates a lot of repinning or click-throughs should come next.
The one major exception to those general rules is seasonally-relevant boards — you'll want to keep them at the top at the right time of the year and buried at the bottom the rest of the time.
In general, you'll want to arrange your boards every now and then to keep things fresh.
When you do an annual audit of your boards, you'll want to classify them into five different categories: repurpose, consolidate, split, collaborate and keep.
Repurpose boards are those that you no longer need or boards that contain content that is no longer relevant to you. You can get these boards back on track by changing their names and descriptions. Use a similar name or an umbrella topic that will cover the previous topic.
For example, imagine you run a clothing brand and created a whole board dedicated to the movie "Clueless" that focuses on the checkered/plaid trend. You can repurpose the board to be about checkered/plaid outfits, favorite '90s movies or movie fashion inspirations.
You can consolidate boards that are relevant to your brand but don't have enough content for you to post about regularly.
For example, if you have different boards for themed parties (summer luaus, sleepovers and so on), you'll probably struggle to create enough content for each of them. Instead, you could take the Pins from all of them and pin to a board called "Themed party ideas."
But don't just erase the boards you moved content from — instead, find ways to repurpose them!
The split category is for boards that are so large that you have a hard time finding the content you need. To manage these, you'll want to find more tightly defined sub-categories and turn those into their own boards.
For example, if you have a board on healthy living and pin both recipes and workouts on them, you can split the board into separate recipes and workout boards.
The collaborate category will be made up of boards that you don't pin to often and can be repurposed as group boards. By managing them this way, the boards get more content even though you aren't regularly pinning to them.
Finally, there is the keep category. These are your healthiest boards. During your audit, you'll just want to do a sweep of the posts on these boards to ensure that your Pins have keyword-rich titles and descriptions.
Back to top
Best practices for Pinterest group boards
Group boards are a great way to get content when you can't pin as often as you should. They are also a great way to promote content to people who aren't your followers. However, doing an audit for group boards can be harder than with your personal boards.
If you're looking to get involved with group boards, you'll want to look for boards that are specific to your niche.
It can be tempting to join group boards that have hundreds of thousands to millions of followers, but if they don't belong to your niche, then there's no use pinning to them.
Once you're part of a board, you'll want to check if the content posted by group members is too spammy. You'll also want to see if people pin often — or not at all. If the content is too promotional or spammy, it's probably best to leave it. If you decide to stay, review the guidelines set by the group owner to ensure that you're following them.
Finally, you can check the board's health and performance by using tools such as Tailwind.
Back to top
How to measure the performance of your Pinterest for business account
To ensure your Pins are catching the eyes of your customers and resonating with your audience, you need to measure your performance on Pinterest. Like any social networking site, it has a wealth of data that will help you understand what's working and what's not.
Pinterest for business includes access to Pinterest Analytics, which measures metrics such as demographics, clicks, Pin saves, and popular Pins, as well as average daily and monthly impressions and viewers. You can also see snippets of an audience profile, such as the types of devices they use and the interests of users that engage with your content.
You can filter all this information according to date, source and content type.
When you go to Pinterest Analytics, you'll see the dashboard divided into three sections: Profile, Audience and Website Analytics. Your website analytics are further divided up into four sections: Impressions, Saves, Link clicks and All-time.
Navigating Pinterest Analytics
To check out your Pinterest Analytics, click "Analytics" in the top left-hand corner of your Pinterest for Business profile and select "overview."
Look for the filter panel on the left-hand side. That's where you can view your content by date, content type, claimed account(s), device and source.
This is also where you'll see your top Pins. They'll be ordered by impressions or engagements. You can download the data into a CSV file.
Defining metrics in Pinterest Analytics
Impressions — This is the total number of times your Pins have been viewed, either through a user's home feed, category feed or search.
Engagements — This is the total number of engagements with your Pins. It includes link clicks, close-ups, saves and carousel card swipes.
Close-ups — This is the total number of times Pinners viewed a close-up version of your Pin.
Saves — This is the total number of times Pinners saved your Pins to a board.
Link clicks — This is the total number of times Pinners clicked on your Pin to a destination, either on or off Pinterest.
Video views — This is the amount of two-second-or-longer views with at least 50% of video visible to the Pinner.
Average watch time — This is the average amount of time a Pinner spent watching your video content.
Link clicks — This is the number of video Pin clicks that drive Pinners to a destination, on or off Pinterest.
Ninety-five percent views — This tells you how many times Pinners watched at least 95% of your video.
Total watch time — This is the total amount of time your video has been watched.
All-time — This includes an assortment of factors from the beginning of your Pinterest history, including popular Pins and highest-ranked content.
Pinterest metrics to track
Pinterest Analytics provides you with a lot of metrics to sort through. It can be a bit overwhelming — especially when you're first getting started.
However, if you keep track of nothing else, pay attention to these three metrics:
Top Pins — This is important because it shows you what your best content is and should help you determine which type of content you should be creating more of.
Repins — This lets you know that people found your content worthy of being reshared. This type of interaction is better than simply viewing the Pin because when someone else repins you, it exposes your Pins to the repinner's audience. This is why Pins have a long half-life.
Audience affinities — This gives you a breakdown of the categories your followers engage with and the top boards to which your content is pinned. It gives you an idea of what your audience is like and what they like.
Back to top
Conclusion and next steps
Given that Pinners are in the "buying mindset" when they are on the social media platform, Pinterest is vital to your business's social media strategy.
On the surface, creating and maintaining a Pinterest for business account is a fun exercise in visual creativity. However, you also have to be willing to put in the hard work to optimize your content and ensure that your audience is growing and interacting with your Pins.
Of course, if you follow these Pinterest for business tips, you'll reap the rewards of your hard work. Just don't forget that the work doesn't end once you start getting traction: maintaining your Pinterest account is an ongoing process.
It's not enough to pin. You need to promote your best Pins, respond to Pinners when they engage with you, maintain and update your boards and measure your performance to fully access the potential of the highly-visual platform.
By teaming up your Pinterest efforts with GoDaddy Websites + Marketing, you can save time and money as you build your brand and get seen by more people.
This article includes content originally published on the GoDaddy blog by the following authors: Genevieve Tuenge, Jennifer Priest, Lauren Abraham and Maxym Martineau.
The post The ultimate guide to using Pinterest for business appeared first on GoDaddy Blog.