If you're doing business today, you're either LinkedIn, or you're out. If you aren't using LinkedIn for business, you're missing opportunities to attract potential customers and clients, generate leads and drive sales.
With more than 225 million users worldwide, LinkedIn is the social networking site for professionals. It's an online platform for industry-specific discussions and for making connections based primarily on professional interests and affiliations.
The rest of this post will teach you how to use LinkedIn for small business, go through the LinkedIn basics, and explain why entrepreneurs and small business owners need to be on LinkedIn to grow their authority, visibility and business.
Guide to LinkedIn for business
Whether you're just getting started on LinkedIn or you're looking to grow your visibility and expand your reach, this post will give you tips to take your presence to the next level.
We'll look at:
Why your business needs a LinkedIn presence.
LinkedIn basics: Setting up a profile in six steps.

Create a personal profile.
Create a Page.
Add buttons to your Company Page.
Encourage your team to connect with your Company Page.
Create Showcase Pages.
Apply for LinkedIn Profinder.
How to use LinkedIn to attract attention to your business.

Share content from your Company Page.
Use hashtags in your posts.
Comment on other posts.
Share posts from other brands and individuals.
Use Content Suggestions to find content to share.
Use Community Hashtags to find content to share.
Activate your employees.
Use LinkedIn Publishing.
Consider running ads.
The secrets to networking on LinkedIn.
Maintain a robust profile.
Use it for intros and connections — then move to email.
Export LinkedIn connections.
The do's and don'ts of LinkedIn.
Conclusion and next steps.
Let's get started.
Why your business needs a LinkedIn presence
LinkedIn is a cyber community where thought leaders are born, products and services are promoted, and employees are recruited.
When you build a robust LinkedIn account, you can begin sharing content — including blog posts and links to videos, websites and other relevant resources — that will establish your expertise, raise brand awareness and grow your community of followers.
Say you own a graphic design firm. With LinkedIn for business, you can showcase your experience and education on your personal profile.
Add a branded Company Page about your business to post company-related news and status updates, share company blog posts, advertise job openings and connect with your clients and strategic partners.
While personal social media outlets such as Facebook or Twitter can be used with limited success for building client relationships, LinkedIn is almost a perfect online forum to do business.
Whether trying to build a client base or a wider audience of decision-makers for future opportunities, LinkedIn provides a number of different ways to sell and market your services that can have a positive impact on your bottom line.
Taking advantage of LinkedIn is as easy as making new connections, engaging with other users, and creating actionable posts and content that will help produce solid returns later. Let's look at how you can get started!
Related: 10 ways to use LinkedIn Publishing to grow your business
Back to top
LinkedIn basics: Setting up a profile in six steps
If you're brand new to LinkedIn for business, get started by going through the following six steps. This process will help you create a personal profile and a LinkedIn Page for your company.
1. Create a personal profile
If you want to create a Company Page for your business, you first need to create a personal profile. You must have a LinkedIn personal account to add a company's page.
Creating a profile is simple and similar to the process of creating a profile on other social media sites. Visit the LinkedIn sign up page to start the process. Enter your email address and chosen password and begin creating your profile by adding:
Profile picture — Remember, this isn't Facebook or Instagram. Upload a high-quality professional headshot.
Headline — In a few words, explain your work role or experience.
About section — In a few paragraphs, introduce yourself, what you do, who you serve, and why you're qualified. Include keywords related to your industry which will help other users find you via search.
Experience — List your past relevant work experience. (You won't be able to add your work experience for your own company until you create a page for it in the next step.)
Education — Add your relevant academic experience as well as any professional licenses and certificates.
Once you add the information you need to build out your profile, you can begin boosting the authority and appearance of your profile even more by adding:
Contacts — Add contacts and look for other professionals that you know on the network and connect with them. It's always good to personalize the invitation by spelling out how you know the person or why you want to connect.
Skills and endorsements — Add skills and take a quiz to add a badge to your profile. Endorsements must be given to you by other LinkedIn users. You can boost the likelihood that others will give you endorsements by giving endorsements to them. (To do so, visit their profile and select skills in the endorsements section.)
Recommendations — Give or request recommendations for people you have worked with. Giving a recommendation is also a good way to get one back.
Once you add these elements, you will have a professional personal profile that will start to get you noticed on LinkedIn. And, you will have what you need to set up your Company Page.
2. Create a Page
To create a profile for your business, visit the Create a LinkedIn Page page while logged into your personal account.

Add your:
Business name
LinkedIn public URL — Keep this as simple as possible, and use just your brand name if possible.
Website — Include your primary website URL.
Company details — Add your industry, company size and company type.
Logo — Keep in mind that your business name is usually written next to the logo so the image can simply be the icon version of your logo.
Locations — Add one or more locations for your business.
Specialties — Select the industries that are closely related to your products and services.
Tagline — Introduce your business in up to 120 characters by quickly addressing how you help your customers and clients.
Description — Tell your company's story much like you did in the About Us section of your website. Make sure you include what you do, why you do it, who you serve, and how customers can work with you.
When writing both the tagline and description for your page, be mindful of the terms you use. Use keywords that are related to your industry to help potential customers and clients find your Company Page through search.
3. Add buttons to your Company Page
While setting up your Company Page, you will have options for adding buttons to your profile.
A Follow Button will automatically appear on your profile. The Follow Button allows interested audiences to stay connected with your brand on LinkedIn. When users hit the button, they will begin to receive updates and notifications from your brand in their newsfeed.
Next to the Follow Button, you can add a custom button. You can use this button to drive users to a specific off-site webpage. Add a URL and choose from the following button texts:
Visit website
Contact us
Learn more
Register
Sign up
Choose your CTA button by looking at your current sales funnel. If you have a page on your site that starts your funnel, you may want to drive traffic there. Or, if you have a compelling lead magnet, you can drive audiences directly to the sign-up page.
Related: How to use your blog as a lead magnet to understand customers
4. Encourage your team to connect with your Company Page
If your business has team members, encourage them to connect their profile to your brand page. Once they have a personal profile, they can add their position at your company to the experience section.
This helps spread your brand exposure and build up the authority of your business on LinkedIn.
Keep in mind that you aren't limited to only adding your full-time employees. If you have freelancers or contractors who regularly work with your brand, ask them if they'd like to add their experience to build even more connections for your business page.
5. Create Showcase Pages
If you have a large or multi-faceted business with a variety of audiences, you can break down your LinkedIn Business profile into smaller segments using Showcase Pages.
Showcase Pages are unique pages with your profile that highlight an individual brand, department or initiative within your larger brand.
Small businesses might not have much of a need for Showcase Pages. But they are useful if your brand has a lot of different audiences.
For example, if you are a website developer who works with agency partners and directly with small businesses, you could create a page for each audience. That way, small businesses don't receive the same content as your agency audience.
6. Apply for LinkedIn Profinder
If your business is a service or consulting based business, also consider signing up for LinkedIn Profinder. LinkedIn Profinder connects freelancers with businesses that need their expertise.
If you apply to be a LinkedIn Pro (and are accepted), LinkedIn will send you proposals from customers who are looking for services you provide.
In addition to your brand page, LinkedIn Pro is another way to leverage LinkedIn for small businesses and connect with more customers and clients. You can apply here.
Back to top
How to use LinkedIn to attract attention to your business
If you go through the steps listed above, you will have an engaging LinkedIn Company Page ready to receive visitors and drive interested audiences toward your brand.
Now, you need to take it to the next level and learn how to attract attention on LinkedIn.
Participating on LinkedIn is important for establishing your legitimacy and driving interest.
Building relationships on LinkedIn involves consistently publishing relevant content, responding to others' content and reaching out to make new connections. Here are a few ways you can get active in the LinkedIn community and drive more interest to your page and brand.
Related: LinkedIn for consultants: 6 tips to maximize your reach
1. Share content from your Company Page
Sharing content is what helps your brand pop up in the newsfeed of users who are following you. You can post content in the form of posts and updates, as well as attach:
Images
Videos
Documents
PowerPoints
Share content that your ideal audience would find interesting, valuable and useful. There is a lot of noise on social media so offer a good reason to follow and pay attention to your brand, and keep in mind that productively participating is not the same as spamming.
You can share content from your own website that promotes your business but don't overdo it. Followers don't want to see all promotional content so share a mix of about:
50% content you create
40% content from other sources
10% promotional content
2. Use hashtags in your posts
Like other social media platforms, LinkedIn uses hashtags to curate conversions and posts into a themed stream. But, the way you use hashtags on LinkedIn should be different from the way you use hashtags on other social media sites.
For example, you can add up to 30 hashtags on Instagram, and it is acceptable. But on LinkedIn, you don't want to post so many hashtagged phrases.
When using hashtags on LinkedIn:
Post no more than five hashtags per post.
Include hashtags throughout your post when relevant (by adding a hashtag to words in your sentences or adding a few at the end on their own).
Use broad hashtags that are related to your industry or topic you're discussing (#Marketing or #Sales).
Also, use more specific hashtags that are niched down for your location or audience (#TampaBusiness or #ContentMarketingTips).
Look back at your most successful posts and see if a hashtag was responsible for attracting attention, and use it again.
Consider creating a branded hashtag that makes it easy for people to find content related to your brand.
3. Comment on other posts
To use LinkedIn for business, you shouldn't have a one-way conversation where you are just posting and sharing content with your audience.
Instead, make it a real two-way conversation by commenting on other posts and responding to any comments on your content.
Show that there is a person behind your brand by sharing your thoughts and opinions in threads. You can comment as your brand, your personal profile, or a mix of both. Either way, your engagement will help you expand your reach and influence.
Note: To comment as your brand, go to the Admin view of your business profile, and comment on the posts that show in your feeds there.
4. Share posts from other brands and individuals
One way to make connections on LinkedIn is by being a supportive user who shares content that others have created.
Share other LinkedIn posts from users or companies.
This tactic puts your brand out there and also shows support to other users and brands that may be likely to share your content in return or follow your brand page.
Note: When using the Admin view of your brand page, you can see other posts in the community hashtags content streams, and share other posts on behalf of your brand.
5. Use Content Suggestions to find content to share
To find content to share on behalf of your brand, visit the Content section of the Admin view of your business page. From there, you can add topics that interest your audience and see top articles that have a high engagement rate.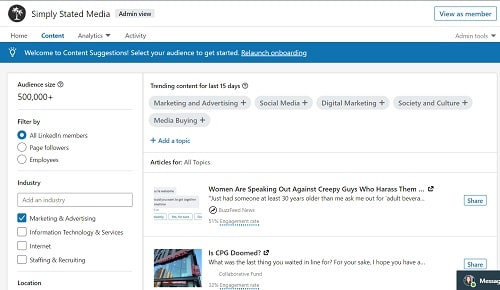 Engagement rate refers to the percentage of people who clicked, shared, liked, or commented on a post after seeing it. From this page, you can find content that is already shown to get audiences to engage with it, giving you a great list of potential content to share from your page.
You can also use filters to narrow the audience to see what content is interesting to people in specific job roles, countries, and industries, making it even easier to find content that can drive engagement from your target audience.
6. Use Community Hashtags to find content to share
Another way to find content to share through your business page is by using Community Hashtags.
Community Hashtags are feeds that can be added to the Admin section of your LinkedIn for Business profile. Add up to three hashtags that are related to your industry or topics that would interest your ideal audience.
Click on the hashtags to see a feed of top content related to that topic and discover content to share with your audience.
7. Activate your employees
To really spread your brand around LinkedIn, get your team involved. Earlier, we suggested that you have your employees tie their profile pages to your brand profile. Now, take it a step further and get your team even more involved.
Recognize and tag team members in your content.
Encourage your team to post on their own and tag your business.
Encourage your team to like and comment on your posts.
Let employees know that you shared content from your company page so they are more likely to engage with the post. When you share a post, select to "Notify employees of post" so that they get an alert that you posted something new.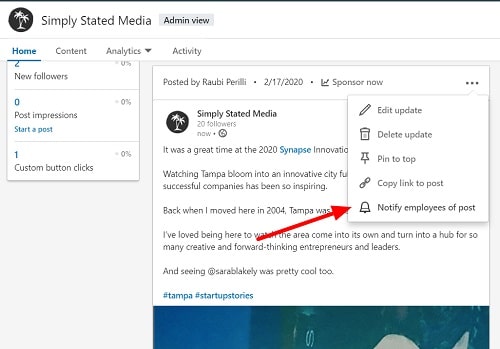 8. Use LinkedIn Publishing
Another way to build authority and visibility on LinkedIn is with LinkedIn Publishing. Through your personal profile, use LinkedIn Publishing to post articles directly on LinkedIn.
LinkedIn Articles show on your profile and pop up in newsfeeds. By publishing valuable articles related to your industry, you can use them to build your personal authority as well as the authority of your brand. You also create content that you can then share through your Company Page.
Related: 10 ways to use LinkedIn Publishing to grow your business
9. Consider running ads
If you go through all of these steps, but you still feel like you are having a difficult time breaking through using LinkedIn for Business, consider running ads. Paid ads can help you directly connect with your target audience and ensure that they see your content and messaging.
LinkedIn ads are incredibly powerful as you can use targeting features to pinpoint exactly who you want to reach. You can choose to connect with users based on their industry, job title, locations and demographic details.
Back to top
The secrets to networking on LinkedIn
LinkedIn operates the world's largest professional network on the Internet with more than 347 million members in 200 countries. Yet few people realize just how wide its social reach is until they plug their accounts into LinkedIn.
To make sure that you get the most out of networking on LinkedIn, follow these three tips.
1. Maintain a robust profile
Building your credibility and your brand on LinkedIn is crucial for building useful business contacts. When you contact someone, it should be obvious who you are and what you're all about—whether that's building bikes from recycled materials or creating custom software solutions or anything in between.
What you write on your profile is important (it should be clear, concise and accurate), but is your personal and/or business website also linked to your profile? Have you attached any examples of your work?
Always include samples to show that you're more than just a well-written profile. You are a legitimate and serious person to do business with.
2. Use it for intros and connections — then move to email
The truth is that LinkedIn is great for making initial connections, but it's not a place to transact business.
After an initial request to connect and a few polite exchanges, you need to take your conversation elsewhere if you really want to engage meaningfully for business.
Moving from LinkedIn to your professional email is a clear sign that you're interested in more than casual networking. Using a branded email address such as yourname@yourdomain.com will instantly validate your professionalism and the legitimacy of your business.
3. Export LinkedIn connections
Getting all those LinkedIn contacts into your regular contacts folder, however, can be a pain. Sure, you could copy and paste every email address from each LinkedIn connection into a new contact — but that's just asking for tendonitis.
Fortunately, LinkedIn makes it relatively easy to export your contacts as a .CSV file.
Look in the contact settings for Export LinkedIn Connections and then import the file into your regular contacts.
With Microsoft Office 365 from GoDaddy, the process is even easier. In the Outlook Web App under the People tab on the left side of the page, you'll see a link called Connect to social networks. From there, you can connect your LinkedIn and Facebook accounts directly to your Office 365 account. Your LinkedIn contacts will automatically be added to your contacts in their own folder.
Even better, if your LinkedIn connections update their contact information, it will automatically update in your contacts! If you use a desktop version of Outlook, you can do the same thing with Outlook Social Connector.
If you add the free LinkedIn for Outlook app to your Office 365 account, you can view the LinkedIn profile of any of your contacts right inside your email. You can even request a LinkedIn connection from a contact in your Office 365 email account without opening another window.
And when you see your LinkedIn connections turning into meaningful business contacts, you'll feel great that all that time you spent "mastering" LinkedIn has finally paid off.
Back to top
The do's and don'ts of LinkedIn
LinkedIn is a great avenue for growing your business and building sales, but there are some especially good and bad practices that can put you ahead — or behind — other brands on the platform.
Now that you know the LinkedIn basics, learn what you should and shouldn't do while using this networking platform.
The Do's
Look for and use common denominators
An often overlooked tool on LinkedIn is the profile page of your current customers. Unless they keep their own networks private, you might find potential clients who are already linked to your existing clientele. (If you don't connect to your clients on LinkedIn, change that. Now.)
There is no better referral for prospective clients than word-of-mouth from their colleagues who are your satisfied, happy customers.
Leverage LinkedIn Groups
Use LinkedIn Groups to meet others with similar interests, establish yourself as an expert on the subject matter and also learn from customers. By participating in group conversations, you can learn about your customers and identify trends that can inform your products, services and content creation.
Grow your team on LinkedIn
LinkedIn is a great place to make business connections and that also includes making connections with people who could become part of your team. If you are looking to expand your team, post a job on LinkedIn to reach the millions of professionals already using the platform.
Use your analytics to learn about your audience
The connections and audience that you have on LinkedIn can also help you learn about your customers. In the Admin section of your Company Page, view the Analytics tab. It tells you about the demographics, location, job functions, industry and company size of your visitors and followers.
If you're looking to better understand who is interested in and doing business with you, LinkedIn analytics is a good place to gather data.
Research your competitors
Another way to use LinkedIn to gain insights into your industry is by researching your competitors' pages You can look at businesses that are similar to yours and browse through their employee profiles to see what type of roles they have filled and how many employees they have.
You can also see what ads they are running as well as what type of content they share that generates a lot of interest, likes and shares.
Look for trending topics
One final way to use LinkedIn for research is through the content section of your business profile. On the content page from the Admin view, you can select topics and see what content is trending related to those ideas.
This both gives you ideas for what type of content to share (you can share the top posts) and gives you ideas for original content you can create (you can tie your original content to trending topics and themes).
The Don'ts
If you're a salesperson, sell — don't be salesy
That may sound contradictory, but it isn't. Your profile and visibility on LinkedIn should portray you as a leader in your field.
Save the pitches and deal-closers for direct communication with leads.
Projecting how great your product is into the ether is a great way to accomplish a whole heap o' nothing and turn people off when you do try to reach out to them.
Don't hound your connections
While it's good to have a connection in common with a potential lead, don't hound your connections for a referral.
Why? It's not necessary!
If your connections say they'll try to put in a good word for you sometime, that's all you need to start running. Contact your potential lead, mention that you have a connection in common and name-drop that individual for what they're worth.
Most of the time, your word will be sufficient anyway and you'll have closed a deal. Plus if they double-check, you've covered your bases there too!
Remember, this is LinkedIn — not Facebook or Pinterest
The founders of LinkedIn created the site as a business-oriented social networking service for use by professionals. This is not the place to post pics of the kale and quinoa pizza you had at the new gastropub, hilarious cat videos, celebrity polls or a 140-character critique of the administration's latest foreign policy initiatives.
Save that for the other online media socializing. People are on LinkedIn to make professional connections and conduct business. Behave accordingly.
Back to top
Conclusion and next steps
Now you know how to use LinkedIn for small business. You have all the information you need to start making an impact on the world's largest business networking platform.
You know:
Why your business needs a LinkedIn presence
How to set up a profile in six steps
How to use LinkedIn for business to attract attention
How to network on LinkedIn
The do's and don'ts of LinkedIn
Now, take all of this advice and put it to practice. Start using LinkedIn for small business to grow your brand visibility, stay top of mind, attract new customers and engage your existing audience and customer base.
For more tips on how to grow your brand's digital presence, check out GoDaddy's website marketing tools. Build your business with GoDaddy Websites + Marketing and link your site to your LinkedIn page to ensure you get eyes on your business.
This article includes content originally published on the GoDaddy blog by the following authors: Andrea Rowland, Ella Koeze and Gary Hall.
The post The ultimate guide to LinkedIn for business appeared first on GoDaddy Blog.