This article was originally published on April 26, 2018, and was updated on May 14, 2020.
When you're in the car business, starting an automotive website might have been something you put on the back burner for a long while. Word of mouth works well in normal circumstances, but in times like these, an online presence can be a critical lifeline for those in the automotive industry.
Not sure where to start or what to include on your website?
An effective automotive website should be a lot more than a listing of services and your contact information.
If your particular automotive business focuses on classic car restorations, for example, a photo gallery showing off your work is an amazing way to attract potential clients. Or if you happen to deal in hard-to-find car parts, having an ecommerce site can attract online customers.
Ultimately, your automotive website can clearly define your business and scope — a great asset within the wide array of specialties in the automotive industry.
Getting your automotive website rolling
With that in mind, let's take a look at getting your automotive site set up with GoDaddy's Websites + Marketing solution.
Setting up your website.
Using a promotions banner.
Set up online appointments.
Taking your site live.
Continuing to grow your online presence.
Setting up your website
When you initially launch into your new Websites + Marketing account, you'll be asked about your business type and your business name. The purpose of this is to help Websites + Marketing recommend services and stock photos that will be applicable to your business, so try to find the topic that best fits your business. I'm choosing an auto body shop for this example:
Once you've selected your particular specialty, click Next to enter your business name. Once entered, click Next again to move on to the site builder.
Websites + Marketing will generate a layout, color scheme and stock photos for your site. Here's what mine came up with: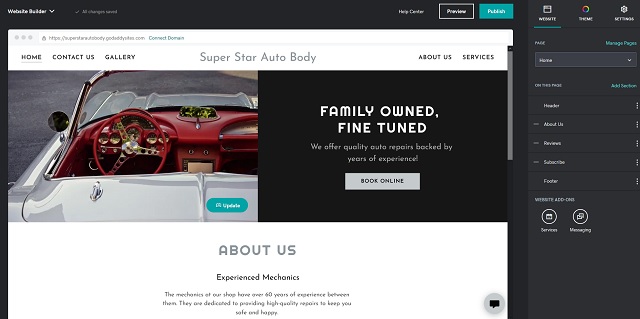 Not a big fan of the colors that the site builder generated? No problem. Click Theme up at the top right, and you can quickly change the color scheme and fonts:
For this site, the Urban theme is selected. After clicking on the Theme option, you'll see your current theme name and a button that says Try a new look. Clicking that button will display all available themes and show a preview of each.
The option you choose here will impact the layout options for your automotive website, as well as the overall fonts for your site. If you want to pick a different color or font option, you can do that here, too: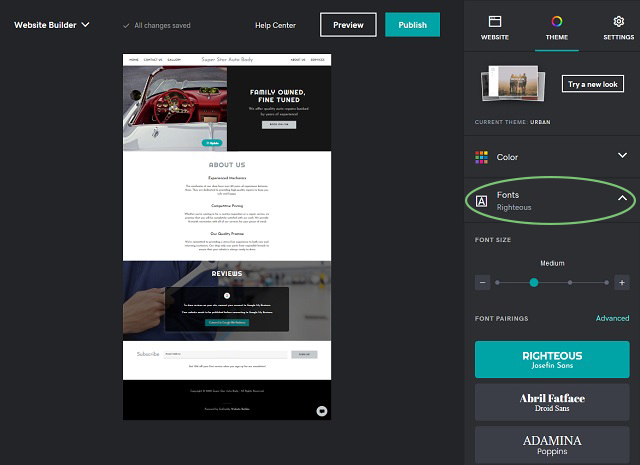 The options you select will automatically update the preview for your site there on the left side. Websites + Marketing will also automatically save your updates, so when you're happy with what you see, click Website at the top right to return to the site editor.
Ready to start adding your content? Simply click the section name that you'd like to modify. You can either click on the section showing to the right side of the editor, or you can click directly on the section itself on the site layout, like this:

Once you've clicked to edit, you'll be able to either modify the existing section, or you can add and remove sections: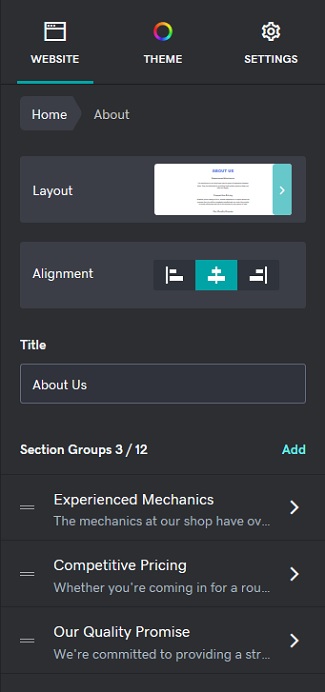 If you don't like the layout of your automotive website that shows by default, click Layout, at the top, and you'd be able to choose a different look.
Each section in Websites + Marketing will have a Layout option, so you're free to modify the look of every section to fit your company's needs.
You're not limited to the pages and sections that come along by default.
Websites + Marketing will start you with handful of recommended pages and sections. You're not limited to those suggestions.
To add a page, from the Website tab, click on the Manage Pages link.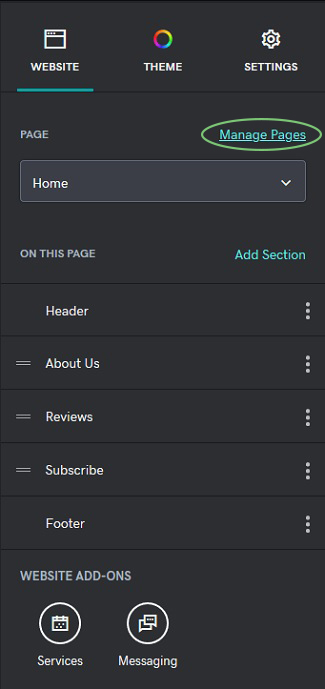 For additional sections, You can either click on the Add Section link or click the + symbol on the desired page.

Using a promotions banner
With Websites + Marketing, you have the option to add a promotional banner to the very top of your automotive website.
This particular selection will be in the Header section options. To get there, click on the header directly, or click on the Header option to the right.

You'll see these options once you're there: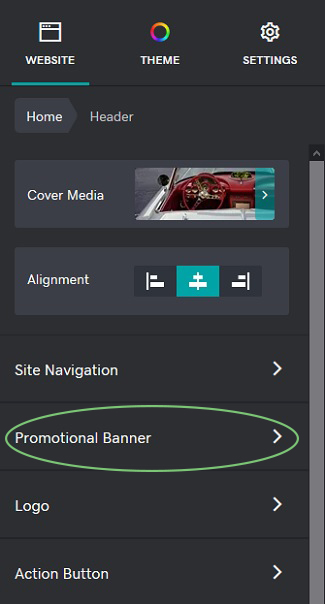 The promotional banner on your automotive website lets you place an advertisement for any deals that you might currently be running.
Beyond promotions, though, it's a great way to call out any new changes or updates to your business or services.
With business operations being uncertain at the moment, the promotional banner is a perfect option to keep your customers informed.
Set up online appointments
Another feature in GoDaddy's Websites + Marketing that can be a helpful tool for automotive websites is the Appointments feature. Appointments allows you to set what times your services are available and allows your customers to quickly book an appointment on your site.
Editor's note: Our help guide offers a great walkthrough on this process.
But to call out some functions specific to automotive websites, the Appointments tool allows you to set services with open-ended pricing, as well as varied locations.
So, for example, if your service requires a custom price quote, you can add text to state that, rather than a set price. Additionally, if you offer mobile services, such as glass repair/replacement, you can offer location options: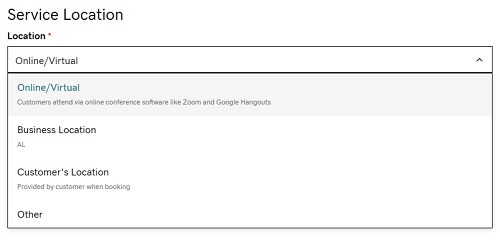 Taking your site live
Now that we've gone through the major points for creating your automotive site, you might be ready to make it live on the internet.
If you'd like to check out how your site will look on both a browser and a mobile phone, click Preview, at the top right of your site editing screen — you'll see a page that looks like this: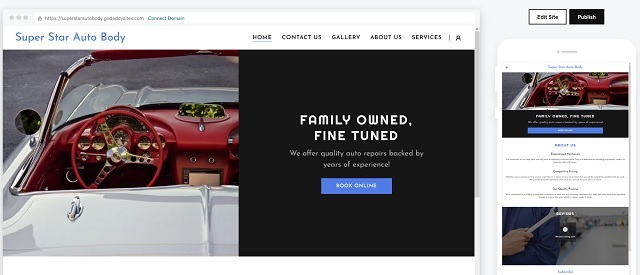 You can scroll through your site there and if it looks good, click Publish to go live. Need to make another change? No worries, hit Edit Site instead to go back to the builder.
Continuing to grow your online presence
Now that you've built your automotive website, there are some other details to consider. If you don't already have a social media presence, it's a great way to grow your engagement with customers. We have the perfect guide to help you with the nitty-gritty details for social media perfection.
You might also be interested in adding a blog down the road. GoDaddy's Websites + Marketing offers a blog option, which is an easy way to get started if you're not familiar with blogging.
If you're not sure about how blogging can help with an automotive website, The Humble Mechanic has some great advice for getting started.
Hopefully these suggestions have given you some ideas on getting your automotive website going. GoDaddy's Websites + Marketing is a fast and simple tool for getting a professional-grade site running in no time flat.
The post How to start an automotive website — the easy way appeared first on GoDaddy Blog.