In these uncertain times of COVID-19, small businesses need to be creative in how they maneuver through the closings, potential exposure issues and budgeting. For industries such as pet care, pet grooming and dog walkers, this can be an even more unpredictable time.
Here are some tips to help those in pet care services to safely continue to work.
Develop an effective long-term strategy
Implementing a long-term strategy for situations like the current pandemic will help to insulate your business from future crises and protect your business from the harshest results of the situation. Your strategy might include the following categories:
Budgeting
It is a given that income will drop off during times of uncertainty, as consumers prepare for the worst. That makes it more important than ever to cut back on unneeded expenditures and overhead, while eliminating waste.
This means monitoring your supply inventories and evaluating what is a requirement and what isn't. For example, you might choose a more affordable brand of similar quality or switch to cloth towels rather than paper towels.
Implement quality control measures that regulate the amount of product being used for each session.
That might mean using dispensing cups for shampoo instead of pumping straight from the bottle, for example. Being a penny pincher will help you keep the lights on even if you can't afford that expensive cup of coffee every morning.
Alternative customer servicing procedures
You'll need to come up with solutions that meet the 6-feet distancing requirements.
Curbside pick-up and drop-off, door-to-door delivery services, and texting check-in and pick-up services can keep business flowing when everyone else is at a standstill.
Hygiene and cleanliness procedures
During a pandemic, cleanliness is at the forefront of everyone's minds. Creating stringent pre- and post-service cleaning processes will help to keep you and your customers safe.
Informing your clients of your cleaning policies and the measures you are taking will have the added bonus of creating customer loyalty and confidence in your company and services.
This information gives customers what they need to make an educated decision and shows them that you care about both their health and the health of their pet.
Related: Key messages to share with your customers during a crisis
Staff support
Understanding and addressing the stress associated with these difficult times and working with staff to create an amicable work situation will not only ensure that your staff are looked out for, but can minimize short handedness, unhappy customers and disgruntled employees.
Consider offering temporary work-from-home options or temporarily retracting non-compete clauses so groomers and bathers can maintain customers' pets where they are less likely to be exposed to virus contamination.
Consider providing improved isolation for onsite workstations, such as partitions or barrier curtains.
Related: 5 ways leaders can inspire newly remote teams during the coronavirus
Communications
Keeping customers and employees informed is vital to maintaining a steady flow of business and ensuring that customers return after the closures are over. Regular communications that are upbeat, positive, concise, accurate and informative are what customers want to hear from you.
Related: 5 ways to keep customers informed about changes to your business
Ideas for minimizing physical customer contact for pet care services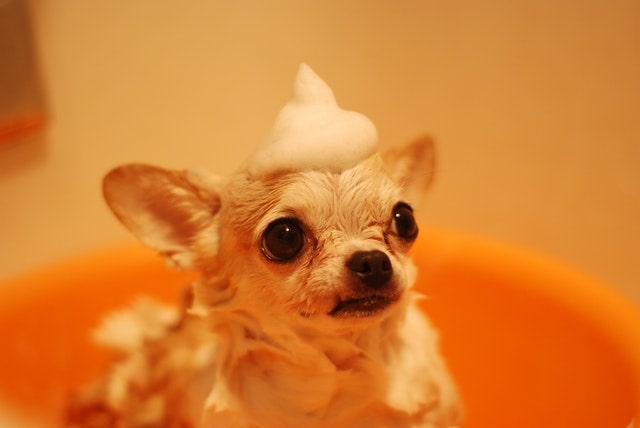 Customer contact is more than your direct interaction with customers. It is also customers being in close proximity to each other, coming in contact with surfaces and areas that others have been in contact with, and any type of face-to-face interaction.
Below are some tips for keeping these instances to a minimum while still offering the pet care services your customers need.
Dedicated drop-off and pick-up locations
By providing one space for drop-off and pick-up interactions, you minimize facility exposure and cross-contamination. Try meeting clients near the front door and politely explaining the need for isolation, rather than bringing customers inside.
Drop-off and pick-up appointment times
Avoid clients coming into contact with one another during these times by scheduling a 10-minute gap between when one customer will be picking up and the next will be dropping off. This allows for those clients that are chronically late or always early.
Institute a text-ahead feature
Allowing customers to text you when they are downstairs or in the parking lot helps groomers and bathers manage the flow of customers proactively.
Check out the American Pet Professionals' COVID-19 Resources and Information for Pet Care Businesses for lots of useful tips during this time.
Getting through tough times
It will be easier to continue business as close to usual as possible during the COVID-19 outbreak if you have a clear picture of your business, are willing to modify your traditional practices, and work together with your groomers, walkers, bathers and entire staff.
Offering work-at-home options and providing additional policies, procedures and isolation strategies while budgeting for the worst of times might be what gets you and your pet care services business through these tough times successfully.
The post How to safely take pet care services to your customers appeared first on GoDaddy Blog.