Having a baby is one of the biggest milestones of any woman's life. As your newborn enters the world, everything changes because boom — you're a mom. Motherhood is a full-time job, especially with a newborn who requires consistent, around-the-clock, attention and care. While the first few months with your new baby are an invaluable and sacred time, many working women may find their business hanging in the balance.
It's difficult to enjoy your time being a new mother if you're worried about your career or business.
Thankfully, you can do both! You can run your business and be a great mom if you bounce back the right way — and we're not talking about shedding any pregnancy pounds.
15 tips to balance your business with a newborn
Let's dive into some tips for balancing your business with a baby.
Use your pregnancy to prepare.
Communicate with your clients and colleagues.
Tie up loose ends.
Make the most of maternity leave.
Ease back into work.
Take advantage of micro-moments.
Focus on business maintenance rather than growth.
Shift to more remote work.
Make new "mom" friends.
Be realistic when setting expectations.
Give yourself the gift of patience.
Don't slack on your own selfcare.
Become best friends with the mute button.
Free up both your hands.
Be flexible.
Here to share some real-world advice is someone who knows exactly how to transition from girl boss to mompreneur: Ashley Allen.
Ashley Allen is a certified personal trainer and fitness, nutrition, and lifestyle coach based in Scottsdale, Arizona. She received her degree from Arizona State University in Education, but whilst she was interning at a local elementary school, she discovered she enjoyed writing personalized diet plans for her mentor more than teaching U.S. history. From that moment forward, she used her teaching abilities to coach her true passion: fitness.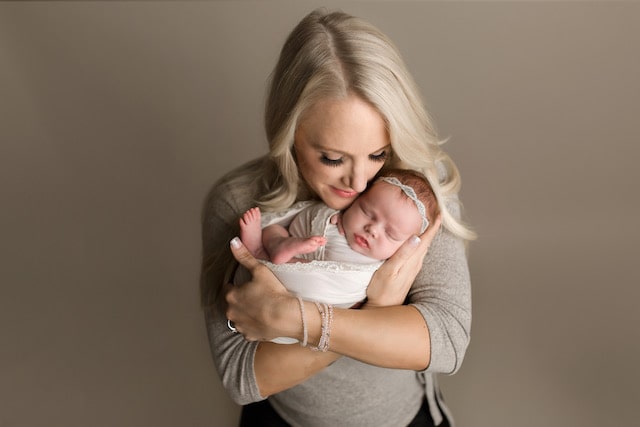 As a professional personal trainer and nutrition coach, Ashley Allen knows a thing or two about bouncing back after a baby. She leads personal and group fitness sessions and also manages clients globally online. Her business was booming both in Arizona and online when, in early 2019, she found out she was pregnant and knew her career would be forever changed.
This past December, Ashley entered the world of motherhood and was faced with a new challenge: balancing her business with a newborn. She was in the midst of building a fitness brand, so becoming a mother wasn't going to hinder any of her plans. Having a baby only made Ashley's brand — and life — better.
Here are Ashley's insights for balancing entrepreneurship and mompreneurship.
1. Use your pregnancy to prepare
Thankfully, a stork isn't going to leave your baby on your doorstep. Instead, you have nine months of pregnancy (or a period pre-adoption) to carefully prepare for the arrival of your child.
While you're prepping your nursery and registering gifts for your baby shower, don't forget to use this valuable time to also prepare your business.
For Ashely, she knew that the stages of her pregnancy would severely alter her daily life. Her physically demanding job as a personal trainer would only get more difficult as her pregnancy progressed. She also needed to avoid best rest at all possible costs since losing in-person sessions would slash half of her income.
According to this mompreneur, getting your finances in order should be priority No. 1.
As soon as she learned she was pregnant, Ashley worked with her husband to plan and save for their inevitable change in household income. This involved getting bank accounts and credit cards organized and setting a new budget.
"When I first found out I was pregnant, I worried about my business because of everything that comes after. How was I going to balance everything?" Ashley admitted. "That's why I started focusing on certain aspects of my brand — and prioritized getting ahead of it."
As Ashley's pregnancy progressed, she shifted her efforts online.
Rather than building the in-person side of her business and gaining more clients at the gym, she only focused on her online products.
By growing her online coaching program, she secured a safer branch of her business she can manage remotely — aka at home with a baby. She did that by dedicating time each day to social media and creating content to expand her influence and reach.
Related: Take your small business online — A step-by-step guide
Back to top
2. Communicate with your clients and colleagues
Of all the takeaways in this article, Ashley stresses one: communication.
Share your big news with clients and colleagues as soon as possible.
Why? It's better to lose a customer upfront and have time to adjust than to upset a client and lose them abruptly.
"It's funny. I actually gained clients when people found out I was pregnant. I think I became more relatable and I felt more connected to my clients once opening up to them," said Ashley. "Plus, if I lost a customer because they didn't respect my choice to become a mother, then they're not a client for me anyway."
Back to top
3. Tie up loose ends
Be sure to finish all projects and set any deadlines long before your due date. Use your last days working to get things in order and take detailed notes of where any outstanding projects are.
Set your out-of-office email responder and double-check that everyone who needs to know of your absence is aware.
Ashley worked until the day before her due date. Then, three days later, Savannah Allen was born.
Back to top
4. Make the most of maternity leave
What happened to Ashley's business once her baby arrived? Nothing. Seriously, nothing. Ashley believes that maternity leave offers some of the most precious times of motherhood. It's designed for becoming a mother and making that transition — not for life outside of that.
"You need a break — a real break — from working because you're so busy becoming an entirely new woman," Ashley said. "Realistically, when are you gonna be able to take this time off again? You need to fully embrace and enjoy it."
Instead of worrying about her business, Ashley only worried about herself and her newborn.
When she wasn't tending to her newborn, she was prioritizing self-care. It was essential for her recovery process both physically and mentally. Ashley's self-care involved simple things like going for a walk by herself, listening to a fun audiobook, or getting her nails done. Anything that let her feel like her normal self.
"I didn't even think about work or working out for five weeks so I felt like I was taken care of. I got my mindset right," Ashley said. "Then, I woke up one day absolutely refreshed. I knew I was ready to get back to work — and that's the most important part."
Related: 18 self-care tips to promote entrepreneur health and wellness
Back to top
5. Ease back into work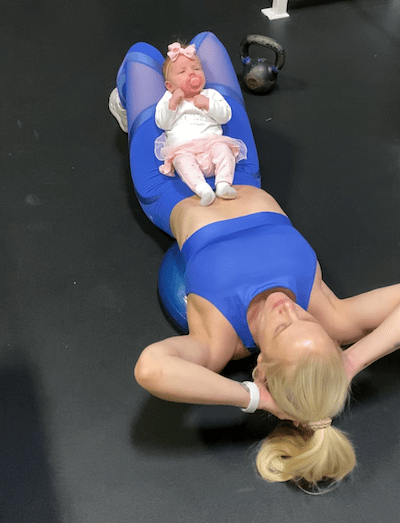 Waking up ready for your comeback might feel exciting at first, but the initial days back are a whirlwind, according to Ashley. She didn't return to her normal packed schedule but instead began working with clients again one by one.
"Thankfully with my job, I could bring my baby with me — but I know that's not possible for most people," Ashley said. "I just suggest easing back into it as gradually as you can. If you have patience with yourself, your coworkers and clients will have patience with you."
Back to top
6. Take advantage of micro-moments
Another tip? Take full advantage of "micro-moments." Once you learn your baby's sleeping and feeding schedule, you can plan for them.
Use this time — no matter how short it is — to respond to that email, call that customer, or write that blog post.
"You don't get to choose exactly when you work anymore. It's all about the baby, so you just need to roll with it and work when you can," Ashley said. "I had to work in diaper changes and nursing time in between clients, but now I have these things built into my schedule because I have Savannah on a routine."
Related: Time block your calendar to get more stuff done
Back to top
7. Focus on business maintenance rather than growth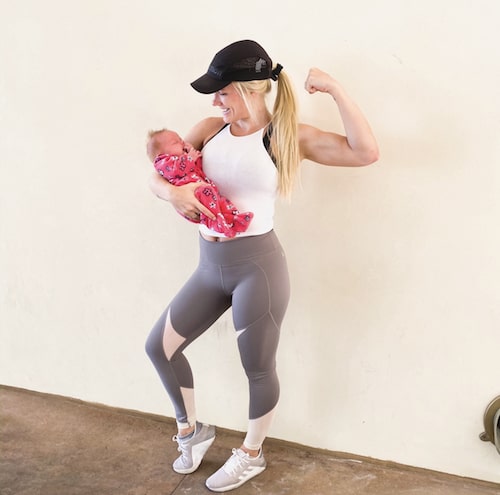 With a baby in tow, managing a business is difficult, but actively growing one can be even more challenging. Ashley's tried-and-true advice?
"I'm working, but it's not a hustle like it used to be. I'm not taking on big projects because my focus right now is Savannah," Ashely said. "I need to focus on her and her development so I've accepted the fact it's not the year to build my business. I'm maintaining and strengthening what I have. I'll get back to growing my brand next year!"
Rather than spending time each week prospecting clients or chasing new partnerships, Ashley refocused this time on strengthening the customer relationships she already had.
"It's more important to reduce turnover and create a solid foundation than try to grow — at least for now," she explained.
When the time comes, she'll have a better launchpad and stronger network to jumpstart new plans.
In a few months when her newborn becomes more independent, Ashley has big plans to begin building her business again. Eventually, she plans to migrate her entire personal training and coaching business online so to make this happen, she's actively building her email list and network.
Related: 14 creative ways to grow your email list
Back to top
8. Shift to more remote work
If you are looking to start something new, consider beginning a home-based business or expanding a branch of your current venture online.
Can you sell your products on your website?
Or create and sell an online course?
Maybe you can work with clients virtually?
If you can turn a component of your work remote — even for a short time — you free yourself up to have a more flexible schedule to build a successful business without possible barriers.
Related: 25 home business ideas with low startup costs
Back to top
9. Make new "mom" friends
Another smart strategy of balancing your business with a newborn is to surround yourself with those in your same situation.
Try out a baby-focused fitness class or join a group or community.
Ashley strongly recommends finding people outside your family or friend circle.
"It's relieving to know you're not alone in this," she said. "And while your own mother can give you some of the best advice in the world, it's nice to hear a fresh perspective."
It's not only beneficial to get an outsider's point of view, but sharing newborn stories is a great ice breaker to meet new moms. Ashley worked with a local business, Modern Milk, that is a community place for new parents offering educational classes, lactation consultants and other resources.
"I'm the first of my friends to have a baby so I needed to make some mom-friends that I could relate with. I never knew how much I would need them," Ashley said. "They help me greatly on a personal level, but they're also increasing my overall network and reach within the local community. Since my business relies on referrals, I'm always looking for ways to grow."
Related: Networking for women — 7 ways to work your network for leads and clients
Back to top
10. Be realistic when setting expectations
Always be realistic with yourself when setting any expectations. As a life coach, Ashley sees people set themselves up for failure all the time with unrealistic goals.
Break big goals into small, achievable tasks.
You'll stay more motivated and have a high chance of succeeding, even if it takes longer.
Back to top
11. Give yourself the gift of patience
Accept the fact you're not going to bounce back instantly. You need to give yourself grace and patience as you transition back into the working world.
Small steps every day make the biggest difference.
Back to top
12. Don't slack on your own selfcare
Ashley noted that after having her baby, her first doctor's appointment wasn't for six weeks! While the baby was monitored weekly, Ashley had to take it upon herself to make sure her own body was looked after.
While your baby might be your top priority, don't lose yourself along the way.
Back to top
13. Become best friends with the mute button
Newborns are unpredictable and if you're on the phone or a video call with a client, be on the ready to push that mute button at any moment. While customers can be very understanding with proper communication, it's never nice to hear the shrill cries of a hungry baby.
Back to top
14. Free up both your hands
Invest in a comfortable baby sling or wrap so you can move freely with your baby on board. Baby carriers are another necessity for when you need some personal space, but the point is, find ways that both you and the baby enjoy that liberates your hands.
Back to top
15. Be flexible in every aspect of life
In the beginning with a newborn, you're not working your normal nine-to-five hours. Prepare to work early mornings, late nights, and any chance you get in between.
Pro tip: Learn how to type while breast-feeding and multi-task.
Back to top
That's a wrap
Ashley's business was adaptable to the life changes of becoming a mother because of her careful planning, strong customer relationships, and open communication with everyone around her — including herself.
Introducing a newborn into any professional's life complicates things, but no brand needs to be negatively affected if you know where to focus your efforts.
You have the power to bounce back into your business quickly and efficiently and then, confidently balance it with your newborn. If you make strategic moves like Ashley did, both your new baby and your business will grow together.
The post 15 tips to balance your business with a new baby appeared first on GoDaddy Blog.