This post was originally published on Aug. 25, 2017, and was updated on May 11, 2020.
We were already living in a world of click-and-consume. And now that the COVID-19 pandemic has forced people indoors, it's more important than ever for businesses to find a way to sell online.
If you're an auto salesperson or you work in a dealership, it's time to start thinking about how you can sell cars digitally — if you haven't been already. To do that, you've got to promote your inventory online, and fortunately, it's easier than you might think.
Put your inventory online in 5 steps
Start your engines.
Pick a great name.
Make sure it runs like a dream.
Show and tell.
Promote your digital showroom.
Before we walk through the process of building a website using a tool like GoDaddy's Online Store, let's talk about the reasons why many dealerships don't have them.
My customers want a personal connection. They'll come to the lot to buy.
People will want to drive the car first, before they buy.
I don't want to list my prices online.
As you start to build your online inventory, think of it more as a front door to your dealership. You're welcoming people in. You're showing them around. You're making them feel comfortable with your brand and dealership.
Your online inventory is a way for you to collect leads (encouraging people to sign up for a monthly email, for example) which is just one of many ways to sell cars online.
During this pandemic, the case for online sales is even more apparent; your dealership may or may not be operating in the realm of "normalcy," and even if it is, your customers may not be engaging with you the way they usually are.
Also keep in mind the long-lasting effects of the pandemic; customers are getting used to staying home and buying online. If you want to stay relevant for as long as possible and continue connecting with your target demographics, you'll need to appeal to them with more online options.
Now let's explore how you can build an ecommerce website for your dealership.
1. Start your engines
Here are a few tips to help you sell cars online.
Check out your local competition
What's the dealer from across the street doing? What do you like or dislike about how they sell cars online (if they do)? Spend some time on their site before you dive into building your own. Check out what people are saying about them on ratings sites.
What do you like about their websites? What would you do differently? Take a few notes and let's move on.
Know your website building budget
Our experts recommend that you make sure "to include all your costs to get to your bottom line: SSL certificate (this protects credit card information), hosting, platform, domain, email, themes, plugins (for websites built with WordPress), payment gateways, credit card processing fees, advertising and inventory."
Our advice? Start with a small budget — and then, as your inventory grows and you see more traffic coming into it, put in more money.
Create a privacy and security policy
These policies must say what you're going to do with your customer's info and how you'll protect it. This is how you build trust.
Related: Tips for your Terms of Service and Privacy Policy pages
Describe your cars
It's not enough to slap on a bunch of photos with a price tag at the bottom. A one-line description of the car isn't going to cut it, either.
Dive deep into the make, model, color selection and features of the car. If it's a used car, be upfront about wear. Someone should read your description and know exactly what you're selling.
Related: How to write product descriptions to increase sales
Back to top
2. Pick a great name
There's a lot riding on this step. Your domain name becomes your web address — it's what people are going to remember to find your business online. There are plenty of resources available to help you get the right domain name, including:
What is a domain name?
All about domain extensions
10 tips for choosing the perfect domain name
Let's review a few guidelines that apply to the car industry.
bmw.com is a domain name. So is jaguar.com. You'll need one of your own to have a website.
Avoid slang. Don't do "u" for "you" or "xpress" for "express." Make your domain name intuitive for the consumer.
Be brief. Put on your Ernest Hemingway hat. Get to the point.
Use keywords. If you want to sell cars online, the word "car," "cars" or "auto" should be in your domain name.
Research. Before you buy the domain, make sure the name isn't already trademarked (U.S. readers can search the trademark database to find out). Get feedback from friends, family and customers if you're torn between two names.
Be local. If you sell cars online in Boston, include "Boston" in the domain.
Check out your naming options now. Just type in your dealership name to start.
Back to top
3. Make sure it runs like a dream
If you want people to buy from you, you've got to make sure your site is functioning at its fullest capacity — especially with the surge in traffic you'll see during quarantine.
All the bells and whistles won't do much if the backend functions of the website aren't working properly. Let's take a look at the specifics you'll need to sell cars online:
Easy inventory management
Cars come and cars go — often quickly. With shoppers logging on to check your listings at all times of the day and night, it's important that your site can be quickly updated to reflect the latest inventory.
With GoDaddy's Online Store, you can manage up to 1,500 product listings with just a few clicks.
Payment gateways to accept payment
This gateway links your website to your processing network and merchant account. Your gateway should be able to handle all major credit and debit cards.
The gateway that comes with GoDaddy's Online Store accepts all of the most popular payment methods, from major credit cards to PayPal and Apple Pay.
An SSL certificate
This protects a customer's credit card information and it's essential for you to have. Each certificate can range in price, depending on the number of websites you want to protect. Take a look at some SSL certificate options.
Editor's note: GoDaddy's Online Store includes an SSL certificate by default, so you won't need to purchase one if you're planning to use the Online Store service.
Shipping
Think you'd like to sell floor mats, seat covers and accessories from your website? With Online Store, you can choose between basic shipping methods (free shipping, flat rate and weight based) or carrier calculated shipping (USPS and UPS). You can also offer downloadable files like technical spec sheets or finance applications on your website.
Related: Take your small business online — A step-by-step guide
Back to top
4. Show and tell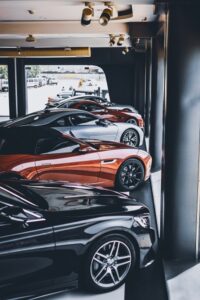 You want someone to see a picture of a car in your inventory and immediately think, "I want that one."
How can you do that? It all comes down to text and pictures.
DMV.org, a privately-owned website that's not owned or operated by any state agency, has some tips on how to get the best car photos.
Ultimately, a bad picture can make the vehicle look unappealing, but a good picture can enhance the perceived value.
You'll want to take pictures of the car's exterior, interior (dashboard, all seats, carpet, odometer), engine, tires, wheels and trunk. If you use GoDaddy's Online Store, you'll be able to include up to 10 photos for each vehicle you list.
A few choice tips for photos that sell:
Use multiple angles. Prove to the buyer that you aren't hiding any defects.
Put the car in front of a plain background. It will keep the focus on the vehicle.
Highlight special features. A sunroof, upgrades or modifications are key selling points. These can help to increase buyer interest.
Related: How to take product photos that will help sell your goods
Now that you've got the images down, it's time to think about the words. Every vehicle in your inventory will need a description. Good news: It doesn't have to be long. In fact, keep it down to 1,000 words or less.
According to DMV.org, here's what you need to include if you're selling used cars:
Mileage
The condition of the car
Any history of accidents
Modifications that have been made
Recent repairs
The number of past owners
While you're writing, pay attention to grammar and spelling, too. And each word matters. For example, don't say the word "loaded."
According to DMV.org, "If a car is loaded, it typically means it has a lot of extra features. Instead of saying 'loaded,' it's best to describe these extra features and leave out the vague language."
Related: 6 ways to use your website to build trust
Back to top
5. Promote your digital showroom
Now that you've got your inventory up on the web, let your customers know! Here are a few ways you can do this:
Tell people at the dealership
Assuming you're still open, you can tell people who visit the dealership that they can check out the cars online. On your business card, make sure you've got the web address for your website.
If you're doing an email newsletter, create an ad that directs people to the site.
It's also a good idea to create signage in and around your lot; that way, people driving by will know they can still shop for a new car online.
Social media helps, too
If your dealership isn't yet active on social media, you'll want to start building your presence. Now is the time to blast your audience on Facebook, Twitter and Instagram. If they're already following you on social media, they'll love that they can check out your inventory online, too.
A simple idea of what you could do on social media would be to tweet out a picture of a car, linking back to your inventory.
With a GoDaddy's Online Store, social sharing is built right in — it even creates a matching Facebook page for you with a "Shop Now" button that leads casual browsers right to your site. Plus, the email tool lets you send out emails promoting your featured vehicles.
Social media is also the ideal medium to keep your customers updated on changes to your business; inform them of your updated hours, new policies, and new online products and services.
Optimize for search engines
Basically, SEO (search engine optimization) is comprised of tactics to drive more traffic to your website. If a search engine like Google can't find your dealership's website, nobody will come.
At a minimum, be sure to include target keywords — the words or phrases that people might type into a search bar to find your products or services online — on each of your ecommerce site's pages.
You can learn all about SEO for small business websites here. If you need a little extra help, GoDaddy Online Store automatically reviews your store and optimizes it for search engines like Google, Yahoo! and Bing.
Paid online advertising
Depending on your budget, you could invest some money into paid advertising campaigns. For example, on social media sites, you might create a targeted ad to promote your inventory to a certain age group, gender or location.
You could also do a PPC (pay per click) campaign. This means that you create an online ad and each time someone clicks on it; you pay the search engine (like Google) a small fee.
Back to top
All it takes to sell cars online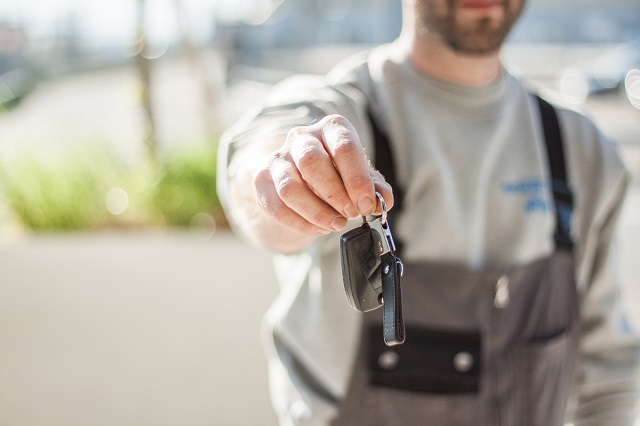 If you're used to selling cars from a showroom or lot, you've already done the hard part. All you need to do now is adapt to changing customer needs and put your inventory where more buyers can see it — online. Follow these tips to get your digital showroom up and running.
Writer Jayson DeMers contributed to this article.
The post Sell cars online in 5 steps appeared first on GoDaddy Blog.