This post was originally published on July 21, 2016, and was updated on May 18, 2020.
Did you set up a Facebook page for your restaurant and feel like nothing's really changed for your business? What if I told you that you could easily increase the reach of your restaurant marketing using your Facebook page?
Sound complicated? It's actually pretty simple. The key is promotion.
Related: Entrepreneur's guide to using Facebook for business
Why you should use Facebook for your restaurant marketing
If you already have a Facebook page and haven't been seeing much response to your current content, it might be tempting to just write the whole thing off. However, combining your Facebook page with the timely geo-targeted promotion options available for businesses can be a winning combination for your restaurant.
"Geo-targeted" is just a fancy term for "people nearby your restaurant." And for us, "timely" just means, "when people are hungry."
So rather than serve ads to the entire country, all day every day, and hope they book a reservation, let's look for local foot traffic. Those are the ones that are already on the go, that might be hungry and see if we can't get them to pop in.
If you're a restaurant owner or in charge of marketing for a local restaurant or chain, this tactic could be perfect for you. It's especially beneficial for those in heavily foot-trafficked areas, like downtown scenes and tourist spots. But it can be modified to fit any restaurant.
Creating timely geo-targeted ads
You'll want to be sure that you've set up your business page on Facebook before you'll be able to create your own ads. If you still need to do that, you'll want to follow these steps first. Additionally, since we're looking to create highly-targeted ads, we're going to set up our ads using the Facebook Ads Manager system, rather than the basic promotion option through Facebook Pages.
Ready? Let's dive in.
Set up your campaign
From your Facebook Page, click on the Visit Ad Center link on the left.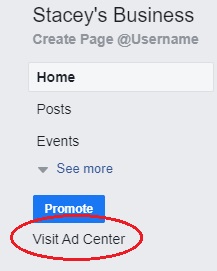 Then, click on All Ads, then Ads Manager.

Now, click Create Ad.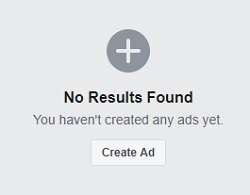 On the ad creation screen that appears, you'll be given the option to choose your marketing objective. Since we're trying to drive traffic to a physical location, we'll choose Traffic as our objective.
Once you've selected your consideration, scroll down and click Set Up Ad Account. Fill out your location and currency information, then click Continue.
Choosing your audience
On the next page, you'll want to scroll down to the Audience block and you'll be able to set parameters for your desired demographics.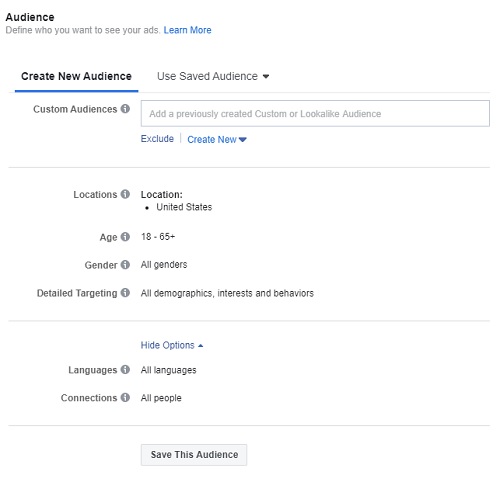 Some options to consider here:
Age — Depending on your restaurant you might want to set your age to 21+ to only target those who can purchase alcohol. If you're a restaurant for all ages, then you can widen the demographics.
Gender — Even if your audience caters to men over women or vice versa, I would tend to leave this setting to "all" until you've maybe run a month or two of tests and the data tells you otherwise.
Detailed Targeting — Again, unless you have data that proves otherwise, you can skip this option and leave it as-is.
Ad placements
Since we're wanting to target on-the-go users, we'll want to manually adjust the ad settings to appear on mobile devices only. You can do this in the Placements section by choosing Mobile in the Devices dropdown menu.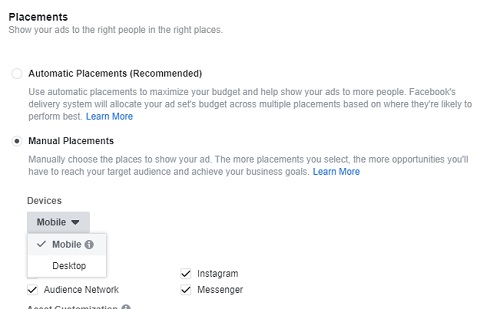 Beyond just mobile-only devices, you can also choose where you want your ads to appear.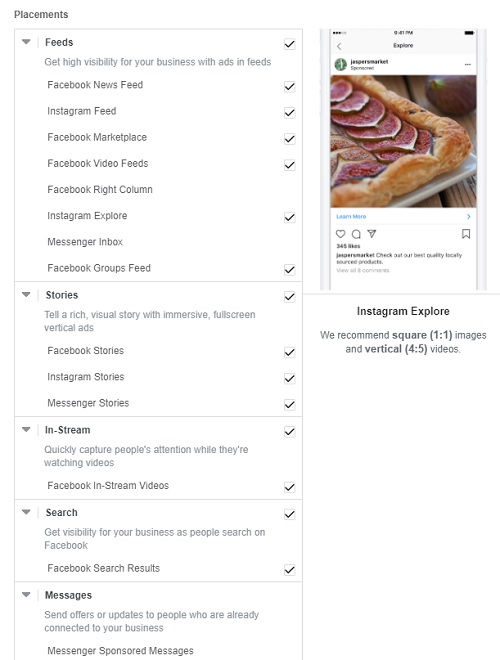 In most cases, the default options (shown above) would work just fine, but feel free to test and adjust your placement as needed.
Budget and scheduling
Because we're going to be targeting users around mealtimes in order to leverage hungry customers, we'll need to manually set our budget and schedule. In order to access manual controls, you'll need to choose the Lifetime Budget option first.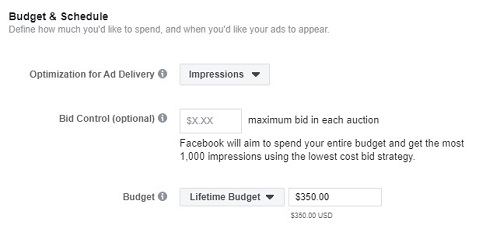 Next, click the Show More Options link to expand your scheduling options. From there, in the Ad Scheduling section, select the option to run your ads on a schedule.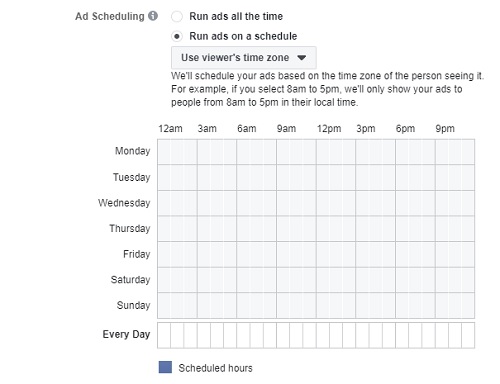 For the best results here, change the times you advertise to be right before your lunch rush and right before your dinner rush. You know your rush better than me, so you'll want to set the times that work for your typical traffic patterns.
Something important to note here. Don't pay for ads at times when you don't need more customers. If you're booked on a certain night, pause your ads for that day.
Once you've set your timeframes, click the Continue option at the bottom right.
Design your ad
Now it's time to get creative and design your advertisement.
While it might be tempting to show the "money shot" of your amazing featured dish as the ad image, I highly recommend including people in the shot. Humans react to humans and they have been proven to generally boost ad performance.
Also, people go out to eat as much for the social engagement as for the food, so play equally to both aspects of their wants when choosing your image.
Facebook offers a plethora of stock photos, so click on the Media option, choose Stock Photos for your media type and run a search.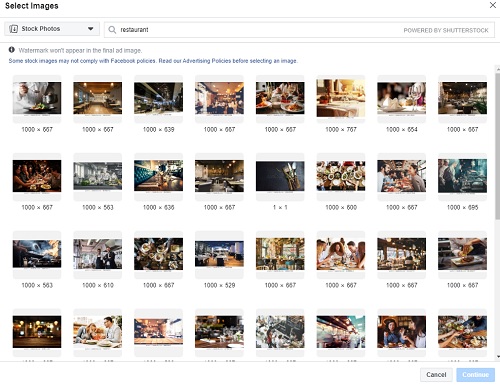 After selecting your image, you can then create your ad copy. When it comes to your ad copy, I always recommend starting off with a compelling question. Don't overthink it.
Something like, "Looking for a great steak dinner tonight? We've got a table waiting for you. Reserve one now."
Next, choose your call to action. I'd recommend either Book Now or Contact Us, depending on how your restaurant handles reservations.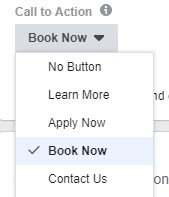 From there, once your ad looks the way you'd like, choose the Confirm option at the bottom of the page.
Editor's note: Need some help managing your restaurant's social media presence? Check out GoDaddy Social. Our experts not only manage your presence on your social networks, but also can help turn an online interaction into a lifelong customer.
Keeping track of your results
For the best results, you'll need to monitor this campaign weekly by keeping an eye on your cost per click, phone calls, reservations and foot traffic to better understand the value of your advertising efforts.
Remember, if you got eight clicks on your ad and no one came in, that doesn't mean the test failed. You need statistical significance to justify success or failure.
If, for example, your daily ad spend is $10, you might hope to be able to drive one table into the store for a $60 meal. While that might feel like it eats at your margin a little bit, the upside is huge. You could get larger parties, they could be willing to spend more, they might come back weeks later, or they might tell a friend. So as long as you break even on this sale, I'd recommend continuing with a campaign like this.
But, an even better way to track the success of the campaign would be to include an immediate 10% discount code in the ad itself. Or maybe a free dessert. While this isn't the most technical route, this is one of the best ways to track your results, as even click and call tracking will miss a fair amount of users who view the ad and then walk in.
The sky's the limit with Facebook ads
Facebook's advertising platform is insanely powerful. You can micro-target location, ages and income levels to further refine your campaigns.
So, what do you think? Ready to bring in more traffic? Give restaurant marketing through Facebook a try and see how it works for your restaurant.
This article includes content originally published on the GoDaddy blog by Derric Haynie.
The post Advanced restaurant marketing using Facebook advertising appeared first on GoDaddy Blog.